Recipe Type:
Classics Classic boudin with pork livers added. Ingredients5 lbs pork meat, chopped (pork butt roast is a good choice) 2 lbs pork livers 3 cups rice, steamed 4 onions, chopped 2 bunches green onion tops, chopped 3 tbsp parsley flakes 3 tbsp celery flakes 2 tsp salt or to taste 3 ...
Read more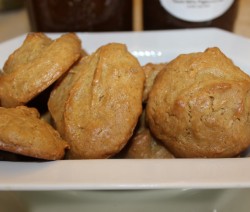 Figs are a delicious fruit, often thought of as sacred. At one time, Greece even made it illegal to export figs, wanting to make sure that they had the advantage at the Olympic Games. Mawmaw sure would've high jumped for fresh figs to make her jam and preserves. Ingredients2 cups ...
Read more Fall always reminds me of sugar cane, syrup and popcorn balls. My favorite as a young child. Ingredients2 quarts popcorn 2 cups Steen's (cane syrup) 1 tsp salt 1 tsp butterDirectionsStep 1Pop the corn and set aside. Boil syrup and salt on medium heat. Stir constantly until syrup forms a ...
Read more Another Cajun Classic! So good, you'll slap your momma. Ingredients1 lb cubed pork chops or pork fingers 1/2 cup oil 1 onion, sliced 1 cup parsley 1/2 cup green onion tops 2 cups rice 2 cups hot water 1/2 tsp red pepper 1/2 tsp black pepper 1 tbsp saltDirectionsStep 1Cook ...
Read more A  popular and classic hoilday yam casserole. Ingredients2 eggs, beaten 3 cups cooked sweet potatoes, mashed 1 stick softened butter 2/3 cup white granulated sugar 1 tbsp vanilla extract 2/3 cup light brown sugar 1/3 cup flour1 stick butter (8 tbsp) 1/2 cup chopped pecansDirectionsStep 1Mix together eggs, sweet potatoes, ...
Read more