Recipe Type:
Classics Another Cajun Classic! So good, you'll slap your momma. Ingredients1 lb cubed pork chops or pork fingers 1/2 cup oil 1 onion, sliced 1 cup parsley 1/2 cup green onion tops 2 cups rice 2 cups hot water 1/2 tsp red pepper 1/2 tsp black pepper 1 tbsp saltDirectionsStep 1Cook ...
Read more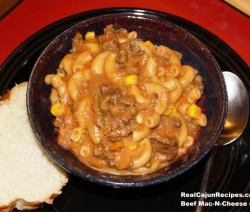 This dish is easy, inexpensive and yummy comfort food being mixed into one pot! Hungarian Goulash where the dish name Goulash originated was a stew mixture made with beef and vegetables. My guess is because what you cooked ended up in one pot where you "mixed all the stuff" together. ...
Read more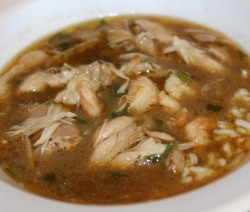 A true Cajun classic. The original recipe had 2 tbsp vegetable oil and 2 tbsp flour and  quarts of water. At the end of the cooking cycle right before being served, the powdered file was added and the cook would dip the ladle in and out of the gumbo aerating the broth; ...
Read more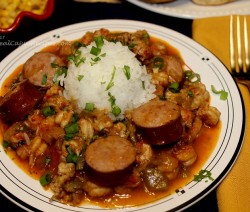 A Cajun dish so common, it's in everyone's recipe box. The no-soup etouffee -one of my personal favorites. Ingredients2 lbs peeled crawfish tails 1/2 stick (1/4 cup) butter 1/2 cup chopped celery 1 cup chopped onion 1/2 cup chopped bell pepper 2 cloves of garlic 1 tbsp cornstarch 1 tbsp ...
Read more A  popular and classic hoilday yam casserole. Ingredients2 eggs, beaten 3 cups cooked sweet potatoes, mashed 1 stick softened butter 2/3 cup white granulated sugar 1 tbsp vanilla extract 2/3 cup light brown sugar 1/3 cup flour1 stick butter (8 tbsp) 1/2 cup chopped pecansDirectionsStep 1Mix together eggs, sweet potatoes, ...
Read more