Recipe Type:
Classics A Cajun and his potato salad question – Do you eat your potato salad in the gumbo or on a plate and not in the gumbo dish? Ingredients5 cups peeled cubed potato3 cups water2 eggs1-1/4 teaspoon salt, divided1 cup mayonnaise1/4 cup minced stuffed olives, optional1/4 cup minced green bell pepper1/4 ...
Read more Malted milk, found in ice cream malts and candies, is a powdered gruel made from a mixture of malted barley, wheat flour, and evaporated whole milk source Wikipedia.com . The powder is used to add its distinctive flavor to: Malted hot drinks, such as Horlicks and Ovaltine – Malted milk ...
Read more Perfect for cakes and sweet dough tarts! Being from a large family, we loved when Momma made her German chocolate cake. The kids would fight to lick the spoon. Ingredients1 cup sugar1 block butter3 egg yolks 1 1/4 cup evaporated milk1 tsp vanilla ( I only use Big Chief) 1 ...
Read more Memaw use to make this for us but would always say "now remember this is for 1 cup ONLY". Ingredients1 tsp Hershey's Cocoa powder2 tsp sugar2 tsp hot milk1 cup milk - do not boildash of vanilla extractDirectionsStep 1In a large mug mix the cocoa and sugar, Step 2Add the ...
Read more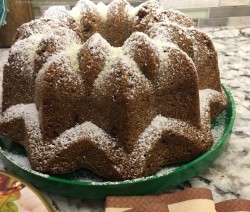 Crunchy and Different and Absolutely Delicious Ingredients2 cups sugar3 cups flour1 teaspoon soda1 teaspoon salt1 teaspoon cinnamon1 1/2 cups Wesson oil3 eggs1 teaspoon vanilla3 cups chopped red apples - do not peel1 cup chopped nuts Powdered sugar for dustingsweetened whipped cream optionalDirectionsStep 1Sift together dry ingredientsStep 2Add oil, eggs and ...
Read more One of the better pickle recipes out there – the author of this recipe Ms. Lena said that this recipe was over 100 years old. Time for soaking is not listed in the total preparation time. Ingredients16 pounds of cucumbers1 cup pickling lime2 quarts red apple cider vinegar9 cups or ...
Read more A simple recipe for fig preserves. Ingredients1 gallon figs8 cups sugar1 cup waterDirectionsStep 1Cut the tips off the figs Step 2Wash a couple of timeStep 3Cook for two hoursStep 4Put in sterilized jarsStep 5Process in hot water bath for 15 minutes
Read more