Recipes With Course:
Side Dishes Ingredients20 cups water5 cups of Quaker grits1 pound butterDirectionsStep 1Add butter to boiling water, stir Step 2Add grits to mixture, stir well and enjoy~
Read more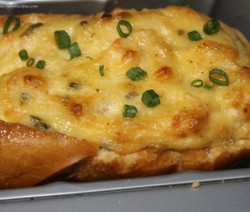 "Shrimp boats is a-comin' – there's dancin' tonight!" Shrimp Boats are a cooking we'll save you a bite – Enjoy~ Ingredients1 pound shrimp, crab meat or crawfish3/4 stick butter1/2 cup onions chopped fine1 teaspoon garlic powder1 teaspoon onion powder1/3 cup scallions onion tops1 cup cheese of choice or 2 oz ...
Read more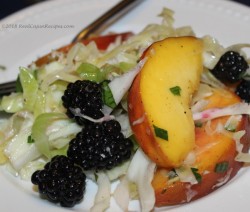 The blend of three popular Cajun likes -Cabbage, Peaches and Blueberries or Blackberries.- in a wonderful tasting Coleslaw. Adapted from  Better Homes and Garden Ingredients1/4 cup white distilled vinegar or white wine vinegar 1/4 cup olive oil1 tblsp green onion diced small1 tsp sugar or Splenda salt and bread lack ...
Read more Ingredients3 cups of fresh blackberries2 cups sugar separated1 cup flour1 egg1 stick butter melted (8 tablespoons)1 teaspoon vanilla1 teaspoon baking soda1 teaspoon baking powder1 teaspoon salt1 teaspoon vanillaDirectionsStep 1If using fresh, wash, drain and paper towel dry berries lightly.. Step 2In a bowl, add one cup of sugar to the ...
Read more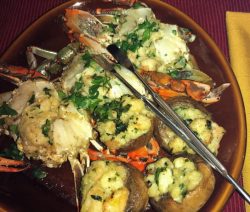 A nice alternative to boiling crabs.- stuffing can be used to stuff mushrooms and to make shrimp egg rolls Ingredients12 crabs cleaned and seasoned with salt and pepper or your favorite Cajun seasoning1 cup chopped onions1 pound chopped shrimp8 tbsp butter1 tsp Cajun seasoning to taste1/4 cup Parmesan cheeseOne slice ...
Read more This recipe is one of our old handwritten recipes written down from a dinner party Ingredients1/4 stick of butter (2 tablespoon)1 medium onion chopped1 teaspoon garlic chopped1 rib celery chopped1 can Rotel tomatoes1 can cream of mushroom soup1 cup sliced mushrooms3/4 pound shrimp and 1/2 pound crab meat2 cups cooked ...
Read more Make your own pumpkin puree for this recipe – Preheat oven to 325 degrees F (165 degrees C). Pie pumpkins would be great to use  – Cut the pumpkin in half, removing the seeds and pulp. Place face down on a buttered or greased cookie sheet. Bake in the preheated oven ...
Read more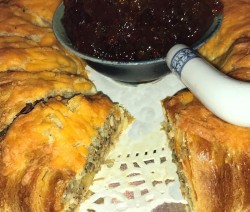 Great party food – Super Mardi Gras Ball dish.Paired with Pepper Jelly. this recipe is doubled packed with flavor – Great Party Food – great for Mardi Gras and family gatherings Ingredients2 pounds boudin2 packages 8 oz Crescent Rolls4 slices crumbled bacon1 to 2 chopped jalepenos1 eggShredded cheddar cheese for ...
Read more