Recipe Type:
Shrimp This recipe shows the versatility of three popular Cajun favorites. Fresh pork sausage or smoked sausage maybe used and crawfish or shrimp may be used,
Read more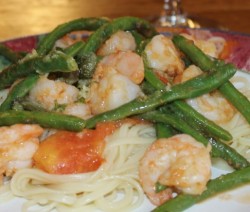 Delicious, easy to prepare and "gud". This recipe is an adaptation from Fast and Fresh made with three Cajun favorites – Shrimp – String Beans – Tomatoes..Oh wait there is a fourth favorite – Pasta. We love linguine for this recipe
Read more Crawfish Étouffée is one of our favorite Cajun classics, but many newcomers find the dish tricky.  This recipe is sure to deliver delicious results in a short amount of time.
Read more This bisque is smooth and satisfying. Made with Louisiana sweet potatoes and gulf shrimp.
Read more Cajuns love their rice, and their modern rice cookers. No matter the brand, Cajuns refer to their rice cooker as a Hitachi!
Read more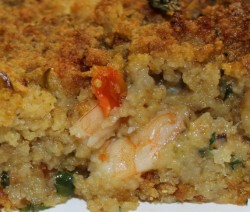 Enjoy this fun information on LA seafood: in a blind taste test, consumers chose Louisiana oysters over others sold in the US 85% of the time. Cajuns will chose it 100% of the time. Fried Oyster or Fried Shrimp compliment this dish.
Read more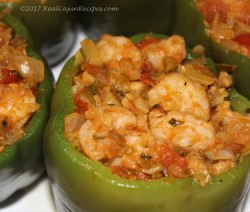 No Rice Shrimp Stuffed Bell Peppers Need to make use of your garden's crop of bell pepper, zucchini, and tomatoes? Try this delicious no-rice stuffed bell pepper paired with shrimp – freezes well and fits many weight plans. A simple dish that would be great for Weight Watchers.. You are ...
Read more