Recipe Type:
Shrimp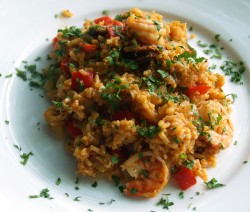 Jambalaya, a Cajun/Creole dish, is perhaps the most versatile main dish that Louisiana has to offer. Jambalaya may be made with beef, pork, chicken, duck, shrimp, oysters, crayfish, sausage, or any combination. Some of the more standard additions are green pepper, cayenne pepper, parsley celery, and onions. Generally, the vegetables ...
Read more My friend Todd lives in a small Cajun town called Church Point La. Church Point is a town in Acadia Parish, Louisiana. St. Landry Hospital, has organized an annual Buggy Festival, held in Church Point on the first weekend in June. The town was chosen because residents had used buggies ...
Read more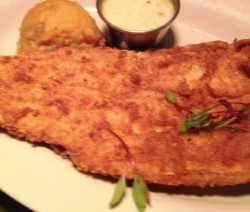 A wonderful homemade fried battered recipe for your choice of food! The homemade fish fry is also great for catfish, eggplants, zucchini or any foods requiring a light batter. Use the egg batter or simply wet the item with water, shake excess water and roll in fish fry mixture. Ingredients2 ...
Read more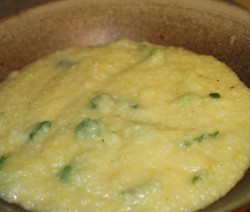 My friends all go to town on these incredible grits. Use this dish as a base for Sausage or Shrimp Grits. Ingredients4 ounces butter 1 quart (4 cups) chicken stock/broth 1/4 cup chopped green onions 1/4 cup heavy cream or Half n Half 1 cup grits 4 ounces swiss or ...
Read more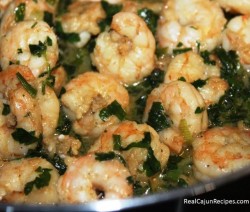 Always a hit at brunches. Just ask that Jenny girl. Ingredients1 pound medium to large shrimp, peeled & deveined 1/4 to 1/2 stick butter 1/2 cup chopped green onions 1/4 pound fresh, sliced mushrooms 1/4 tsp salt 1 tsp garlic powder or 1 clove minced garlic or both 1 tbsp ...
Read more WBRZ of Baton Rouge, LA has a spotlight segment that celebrates a "Chef of the Month". The Chef featured was the chef from Juban's Creole restaurant. This recipe is timely as mirliton are in season at his time and relatively inexpensive. Ingredients6 small mirlitons 1/2 pound ground pork 1 cup ...
Read more A mouthwatering gumbo deep from the heart of Acadiana swamp country. Seafood gumbo cooking at it's finest. Lump bayou crab meat and bayou hot shrimp with the fixins of Cajun vegetables and the secret of Brookie's bayou juice. Ingredients72 ounces shucked jumbo blue crab meat 6 pounds peeled & de-veined ...
Read more This is my boyfriend's favorite – he's a Cajun, born and raised in Broussard, La. Ingredients2 pounds medium shrimp 1 pint heavy whipping cream 1 pint half & half 2 sticks butter 2 cans chicken broth 2 tbsp Tony's Cajun seasoning 2 drops red food coloring salt & pepper to ...
Read more