Recipe Type:
Beef Andouille sausage has a rich, smoky flavor. Traditionally, it's made with pork, salt, pepper and garlic and smoked over pecan wood and sugar cane. Ingredients1 tbsp dry thyme 1 tbsp cayenne pepper 4 tbsp salt 1 1/2 tsp filé powder 1/4 cup cracked black pepper 1/2 cup chopped garlic 1/2 ...
Read more This freezes very well and makes a great quick meal. I recommend you use fresh vegetables, they add a lot of taste in this soup. Ingredients2 round steaks Cajun Chef cayenne red pepper to taste 1 turnip, chopped 1/2 head of white cabbage 1/2 head of red cabbage 2 celery ...
Read more Get your rice cooker out tonight and cook up a meal that will be dynamite. One of our visitors wrote in her suggestion: " I used ground beef, and instead of Tony's Seasoning I used Cajun Spice and a couple of dashes of hot sauce, and I used the crock ...
Read more Need a fast and easy beef dish, try this recipe for dinner. Ingredients1 tbsp cooking oil 1 lb chuck or lean ground beef 2 cups cooked rice 1 package of dry onion soup mix 1 (10 oz) can cream of mushroom soup 1 (10 oz) can Rotel tomatoesDirectionsStep 1Cook rice ...
Read more A great dinner addition (even for those who don't love Broccoli). Ingredients1 deep dish pie shell 3 ounces grated Mozzarella cheese 3 ounces sliced Mozzarella cheese 1 lb ground beef chuck or turkey OR shrimp and/or crab meat 1 (4 oz) can of mushrooms 4 ounces soft cream cheese 1 ...
Read more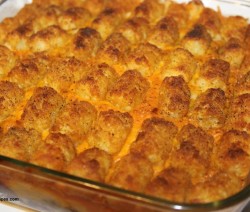 A quick, easy and satisfying dish sure to satisfy even the most hungry of children. The tater tots can be placed and baked on top of the casserole or directly in the casserole. For variety crawfish or shrimp could be added to the dish. Ingredients1 package frozen tater tots / ...
Read more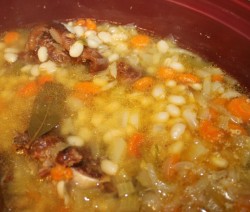 Southerners love their beans. Substitute your favorite dried bean, if you prefer, and if there's leftover ham, feel free to throw it in! Ingredients3/4 lb dried lentil beans (or beans of choice) 2 carrots, sliced in coins 2 onions, chopped 2 stalks of celery, chopped 1 tbsp melted butter 3/4 ...
Read more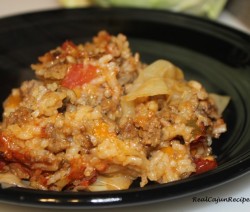 Another great "If you like cabbage" recipe.This casserole is an entire meal in one with rice, meat and vegetables.. It also reheats well if you want to make it a day ahead to bring to a gathering. For a great taste variation, add one pound crawfish or shrimp or two ...
Read more