Recipe Type:
Beef Ingredients1 1/2 lb ground beef 1 onion, chopped 1 bell pepper, chopped fine 2 stalks celery, chopped fine 1 large eggplant or 2 medium 8 bell peppers, trimmed and cored Zatarin's Flavored Bread Crumbs 3 cups cooked rice Red and/or black pepper to taste Onion and garlic powder to taste ...
Read more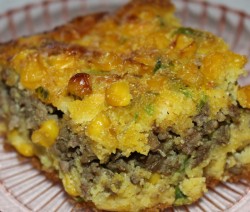 This was one of my children's favorites growing up.   Ingredients1 lb ground meat 1 onion, chopped fine 1/2 lb cheddar cheese, grated 3 jalapenos, chopped 1 cup cornmeal 2 eggs beaten 1 cup milk 1/2 tsp baking soda 3/4 tsp salt 1 (15 oz) can whole kernel corn drained ...
Read more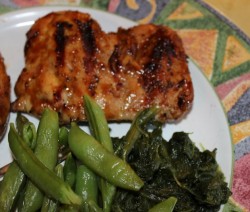 Ingredients1/2 cup onion, chopped fine 1/2 cup bell pepper, chopped 1 (8 oz) can Gebhardt's barbecue sauce (or other bbq sauce) 1 bottle ketchup 1/4 cup sugar 1/2 cup celery, chopped 2 cloves garlic, minced fine 1 (15 oz) can tomato sauce 5 drops Worcestershire Sauce 1/4 cup salad oilDirectionsStep ...
Read more Swedish meatballs are a popular dish at parties and weddings. These were made by me and served at my wedding. IngredientsMeatballs 4 lbs ground beef 2 lbs ground pork 6 slices of stale bread soaked in milk 3 eggs, beaten Garlic salt to taste Salt and black pepper to taste ...
Read more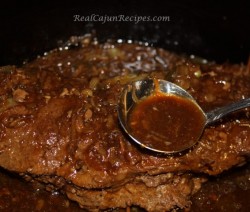 Great flavors of garlic and onion. A good gravy dish. Ingredients2 large round steaks 2 tbsp garlic 1/4 cup onion chopeed 1/4 cup bell pepper chooped 1/4 cup celery chopped 1/4 cup green onion chopped1 package Lipton Onion Soup Mix1 medium onion slicedDirectionsStep 1Season steak to taste with salt and ...
Read more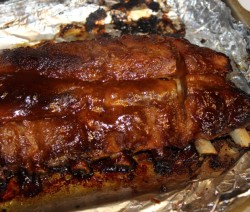 These ribs use a homemade bar-b-que sauce and just fall away from the bone when done. Although the process is a little long, the taste makes it worth it. Ingredients3 (8 oz) cans tomato sauce 3/4 cup brown sugar 1/2 cup apple cider vinegar 1 tsp salt 1 tsp black ...
Read more Ingredients2 onions, chopped 1 bell pepper, chopped 2 lbs lean ground beef 1 lb ground pork 1-2 cans tomato paste 4 (8 oz) cans tomato sauce 4 cups corn Water Salt and pepper to taste Chili powder to taste Cumin to taste Shredded cheeseDirectionsStep 1In a large stockpot, brown the ...
Read more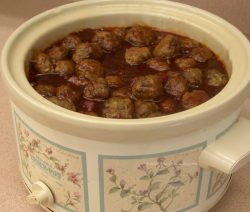 These are great for weddings, parties, family gatherings and SUPERBOWL! They also make great meatball sandwiches. A wedding favorite food IngredientsMeatballs 1 1/2 lbs ground beef 1/2 cup onion finely chopped 1/2 cup crushed cornflake cereal 1/2 tsp salt 1/4 tsp garlic powder 1/8 tsp black pepper 2 eggs, slightly ...
Read more