Recipes With Course:
Nouveau Cajun One of our more "Guilt-Free Cajun Creations" Our author writes, "This is another one of my somewhat Heart-Healthy recipes. There are a few open markets here in Kansas City, and one day, while walking through the famous City Market, I stumbled upon a vender selling the odd combination of spinach ...
Read more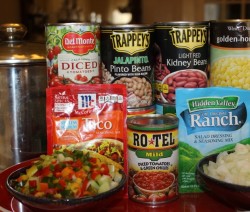 "This is a recipe that has passed through my family for a few years now. Of course, I'd take the version that my grandmother, Mrs. Nolia Faulk, passed on to my father, Kendal Faulk, and put my own twist on it. My Southwestern Grilled Chicken Soup is fairly heart healthy ...
Read more "Being from Louisiana and transplanted in New York, my Cajun roots can't help but be cooking…"
Read more Cajuns love to cook "all day long" meals, but this soup is as good as any "all day cooked" soup. With busy schedules, this makes you look like you slaved all day; allowing you quality time with family and friends or a good game of bouree.
Read more Kasie writes, "This soup is a winner with my husband when he is sick or if it's cold out. Rich, creamy soup that warms the soul. Yummy!"
Read more All the different textures and flavors in this salad make it very interesting! It also goes great with any entree! I usually make it when company comes over and I always get rave reviews!
Read more "Blackened" food, while not traditionally Cajun, was created by Cajun chef Paul Pruhomme in the mid-1980s. According to CajunCulture.com this new invention "sparked a worldwide Cajun food craze" This recipe is a basic Cajun (brown) jambalaya; the difference is the chicken is blackened and added at the end so there ...
Read more I remember the when I was a young girl, my Mom prepared flank steak with gravy and serve it over rice. We loved it! However we did not realize at the time that flank was considered a poor grade of meat. Step forward now….with the price of what flank is ...
Read more