Recipes With Course:
Nouveau Cajun A slow cooked roast in a crock pot, adding roux for a robust gravy; this recipe is not quick but the results make a great Po-Boy sandwich. Ingredients2 pounds or 3 pound rump roast 3 cloves garlic finely chopped 1 tsp oregano 1 tsp basil 1 tsp thyme 1 tsp ...
Read more I came up with this combination as a weekday after work, something good in a hurry – What's in the kitchen moment. It's a healthy and surprisingly tasty dish. Ingredients4 medium frozen skinless chicken breasts 3 medium sweet potatoes peeled & diced in one inch cubes 2 tbsp extra virgin ...
Read more My friend's mom used to make these for us we were in high school. They were our favorite! Since we are all grown and moved out, we don't see each other very often. So, out of the blue, I called her and she gladly gave me her recipe. I didn't ...
Read more The original recipe Panna cotta, is an Italian dessert made by simmering together cream, milk and sugar, mixing this with gelatin, and letting it cool until set. An Italian phrase which literally means "cooked cream", appeared in Woman's Day and is not labor intense. It is so similar to our ...
Read more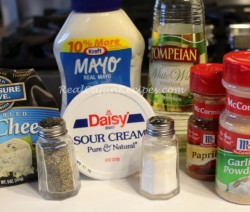 Blue cheese dressing is a popular salad dressing that has been adopted into Cajun culture. Great with our Cajun Hot Wings recipe on this site Ingredients6 ounces Blue Cheese crumbles 1 cup sour cream 1/3 cup mayonnaise 1/4 cup wine vinegar 1 tbsp grated onion (very fine) 1/2 tsp salt 1/2 tsp garlic ...
Read more A delicious and different way to make duck, particularly good for duck season! IngredientsDuck breast 1 can water chestnuts Fresh sliced jalapeños 1 pound bacon Soy sauce Spicy mustard Lea and Perrin steak sauceDirectionsStep 1Cube duck and cut the bacon slices in half. Season duck to taste. Step 2 Roll ...
Read more "This meal marries my two favorite cuisines: Cajun and Italian. Growing up in Eunice, LA, crawfish were plentiful and always anticipated during the fishing season." Ingredients1/2 stick butter or 1/4 cup margarine 1 to 1 1/2 cups heavy whipping cream 1 small yellow or white onion 1/2 medium to large ...
Read more Almost like a catfish courtboullion, but this recipe takes a lot less time to prepare. Ingredients2 lbs catfish steaks or white firm meat fish 2 tbsp olive oil Guidry's Seasoning or Cajun Seasoning to taste parsley 1 (6 to 8 oz) can tomato soupDirectionsStep 1Place olive oil in bottom of ...
Read more