Recipes With Course:
Nouveau Cajun The original recipe Panna cotta, is an Italian dessert made by simmering together cream, milk and sugar, mixing this with gelatin, and letting it cool until set. An Italian phrase which literally means "cooked cream", appeared in Woman's Day and is not labor intense. It is so similar to our ...
Read more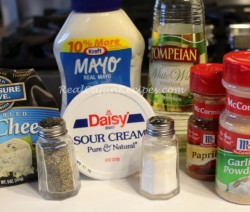 Blue cheese dressing is a popular salad dressing that has been adopted into Cajun culture. Great with our Cajun Hot Wings recipe on this site
Read more A delicious and different way to make duck, particularly good for duck season!
Read more "This meal marries my two favorite cuisines: Cajun and Italian. Growing up in Eunice, LA, crawfish were plentiful and always anticipated during the fishing season."
Read more Almost like a catfish courtboullion, but this recipe takes a lot less time to prepare.
Read more Jon writes, "The reason I consider this Cajun is because my Mom, who is Cajun, made the recipe up". It sure is good, he claims. Jon for his Mother, Dean Miller
Read more Sauerkraut, a non-traditional Cajun food, has captured the Cajun's taste buds and is served more and more frequently on the Cajun dinner table.
Read more "While living in Lake Charles, Louisiana, I had a few friends visiting from Austin, Texas. I offered to cook dinner for these guys, but to my surprise, they soon let me know that they were vegetarian. This was a first for me, but not a problem. My creativity led me ...
Read more