Recipes With Course:
Nouveau Cajun All the different textures and flavors in this salad make it very interesting! It also goes great with any entree! I usually make it when company comes over and I always get rave reviews! Ingredients1 cup pecans, chopped 1 package Ramen Noodles, uncooked & broken 2 tbsp butter 1 bunch ...
Read more "Blackened" food, while not traditionally Cajun, was created by Cajun chef Paul Pruhomme in the mid-1980s. According to CajunCulture.com this new invention "sparked a worldwide Cajun food craze" This recipe is a basic Cajun (brown) jambalaya; the difference is the chicken is blackened and added at the end so there ...
Read more I remember the when I was a young girl, my Mom prepared flank steak with gravy and serve it over rice. We loved it! However we did not realize at the time that flank was considered a poor grade of meat. Step forward now….with the price of what flank is ...
Read more I have cooked these appetizers so many times for parties; if Cajuns are at my party I crank up the red pepper; if not I tame the flavor a bit. Either way you go this will be hit at any Mardi Gras party, holiday or family gatherings. Great for picnics ...
Read more Much like Jambalaya, this Nouveau Cajun dish has a Caribbean influence. Deep fried plantains are a Caribbean favorite but since bananas are readily available around Southwest Louisiana, it made sense to use them in place of delicious plantains. Even though no sugar is added, this dish is a naturally sweet ...
Read more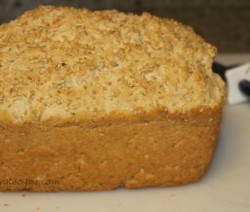 This bread is quick and easy to do!  Serve it once and you will end up baking it again by request. This bread recipe is a winner. MawMaw likes Fat Tire beer, some like wheat beer, choice is yours! Turn the taste around -Toasted sesame seeds and cranberries can be added to ...
Read more This cake needs to be kept two weeks before serving to allow the melding of the bourbon and cake. The flavor is reminiscent of Christmas bourbon cookies with a little more punch. Ingredients1 pound butter 2 cups sugar 6 eggs, separated 1 cup bourbon plus additional for soaking 1 pound ...
Read more I discovered these about 2 1/2 weeks ago. I've made them 6 times already (and have been on vacation one week out of that time). For variety I cook them with different seasonings. We love them. Ms Chrissy likes them also. Great for diabetics or individuals on restricted diets. Ingredients4 ...
Read more