Recipes With Course:
Nouveau Cajun I have cooked these appetizers so many times for parties; if Cajuns are at my party I crank up the red pepper; if not I tame the flavor a bit. Either way you go this will be hit at any Mardi Gras party, holiday or family gatherings. Great for picnics ...
Read more Much like Jambalaya, this Nouveau Cajun dish has a Caribbean influence. Deep fried plantains are a Caribbean favorite but since bananas are readily available around Southwest Louisiana, it made sense to use them in place of delicious plantains. Even though no sugar is added, this dish is a naturally sweet ...
Read more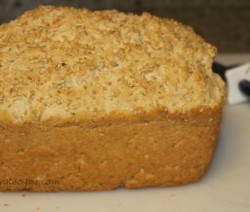 This bread is quick and easy to do!  Serve it once and you will end up baking it again by request. This bread recipe is a winner. MawMaw likes Fat Tire beer, some like wheat beer, choice is yours! Turn the taste around -Toasted sesame seeds and cranberries can be added to ...
Read more This cake needs to be kept two weeks before serving to allow the melding of the bourbon and cake. The flavor is reminiscent of Christmas bourbon cookies with a little more punch.
Read more I discovered these about 2 1/2 weeks ago. I've made them 6 times already (and have been on vacation one week out of that time). For variety I cook them with different seasonings. We love them. Ms Chrissy likes them also. Great for diabetics or individuals on restricted diets.
Read more My oldest son is vegetarian; the soup is my own makings. I started making this soup for his trips back home; he lives in London. I make this the day before he comes in, after our trip home from airport. We unwind eating this soup, munching on blue tortilla chips, ...
Read more A fast and easy rich delicious meal all in one. Greens, meat, dairy all in one meal without needing side dishes. Enjoy!
Read more Sometimes us Cajuns have to watch what we eat; this is the alternative to the real mashed potatoes when on a low carb diet.
Read more