Recipes With Course:
Breads & Rolls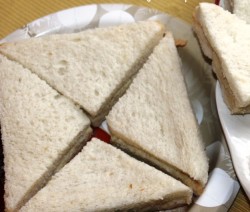 Light tasting, satisfying and a dish to feed the multitudes, this very popular classic sandwich is served at most traditional Cajun weddings. Great for parties, too. Ingredients3 loaves fresh white bread or sandwich bread 1 stalk of celery 1/2 cup sweet pickle relish (or more to taste) 2 ribs celery, ...
Read more If you are like me, you can't get enough eggnog during the holiday season. Here's a way to sneak more eggnog in. Ingredients2 cups prepared eggnog 1 egg 1/2 tsp cinnamon 6 croissants (or bread of choice) 3 tbsp butterDirectionsStep 1In a shallow bowl, mix the eggnog, cinnamon and egg ...
Read more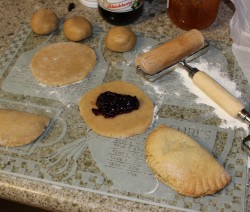 This is a perfect dough for tarts. This dough doesn't have to be refrigerated for handling and can be prepared right away. I prefer filling them with figs, blackberries, or sweet potatoes ( can fill them with whatever you like). This recipe can be cut in half – See half ...
Read more Take our classic pein paurdue (lost bread aka French Toast), add a couple ingredients and you have another great addition to your recipe collection. This is a wonderful breakfast treat. Ingredients4 eggs 2/3 cup orange juice 1/3 cup milk 1/4 cup sugar 1/2 tsp vanilla 1/4 tsp ground nutmeg 8 ...
Read more This is a very classic recipe using stale French bread. This recipe is so good, we sometimes let the bread go stale just so we could get some bread pudding, Great Recipe from Aunt Sandra Ingredients1 loaf stale French bread 1 quart milk 4 beaten eggs 2 cups sugar 1 ...
Read more A classic type of scratch biscuit. Ingredients2 cups sifted flour 2 tsp baking powder 1/2 tsp salt 2 tbsp shortening 3/4 cup milkDirectionsStep 1Preheat oven to 450 degrees. Step 2 In a medium glass bowl, sift the flour once, measure. Add the baking powder and salt and sift again. Cut ...
Read more A classic light and fluffy biscuit recipe for buttermilk lovers. Ingredients4 cups sifted flour 1 tsp salt 1 tsp baking powder 3/4 cup shortening or Crisco butter 1/4 tsp soda 3/4 cup buttermilkDirectionsStep 1Preheat oven to 450 degrees. Step 2 Sift flour once, measure and sift again with salt, soda ...
Read more This easy quick recipe has a mouth watering taste very similar to the famous Popeye's (fried chicken chain) biscuits. Ingredients4 cups Pioneer Buttermilk Biscuit Mix 1 cup lite sour cream 1 cup cold Sprite 1/4 cup butterDirectionsStep 1Melt butter in a bowl. Mix all ingredients together and form biscuit. Mixture ...
Read more