Recipes With Course:
Breads & Rolls IngredientsSponge batter from Sponge Batter Recipe 1 tsp salt 1 tsp soda 1 tbsp sugar 2 eggs 1/4 cup melted shorteningDirectionsStep 1Set sponge as directed in the recipe Sour Dough Starter II (Sponge Batter), making it slightly thicker and let stand overnight. The next morning remove 1/2 cup starter to ...
Read more Ingredients4 cups sifted flour (or more, as needed) 1 tsp salt 1/4 tsp baking soda 2 tbsp sugar 2 tbsp shortening 2 eggs, beaten Sour Dough Starter II (Sponge Batter)DirectionsStep 1Set sponge as usual saving 1/2 cup for your starter. Step 2 Sift dry ingredients in a bowl, making a ...
Read more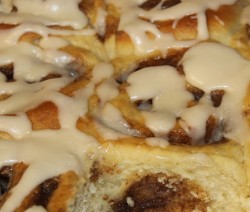 When we grew up, we often had cinnamon rolls at school. This recipe is a recreation of that old-fashioned taste. On this website Look up – Linda's Old-Fashioned School Cafeteria Bread Rolls to make this recipe IngredientsOn this website - Linda's Old-Fashioned School Cafeteria Bread Rolls 1 cup granulated sugar 3 ...
Read more Ingredients1 package dry yeast 1 3/4 cups flour 1 tbsp salt 1 tbsp sugar 2 1/2 cups warm waterDirectionsStep 1Using a glass bowl and wooden spoon mix all ingredients well. Cover loosely with saran wrap. Stir once daily for 3 to 5 days. Mixture should become bubbly. Now you're ready ...
Read more From Wikipedia – Sourdough is a bread product made by a long fermentation of dough using naturally occurring lactobacilli and yeasts. Ingredients2 cups all purpose flour 2 cups warm water 1 package dry yeastDirectionsStep 1Combine ingredients and mix well. Place in a warm spot or closed cupboard overnight. In the morning, put ...
Read more Ingredients4 slices stale bread 3 eggs 1/2 cup sugar 1 tsp vanilla extractDirectionsStep 1Beat eggs. Add sugar and beat together well. Add vanilla extract to the mixture. Step 2 Heat a greased griddle. Dip the bread slices into the egg mixture and place on griddle. Cook bread over medium heat ...
Read more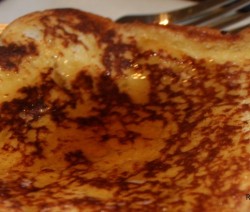 This is a great dish for breakfast or supper. You can top with syrup, powdered sugar or a cooked egg. Ingredients3 eggs 3 tbsp granulated sugar 1 tsp vanilla 1/2 tsp cinnamon or nutmeg 1/4 cup half and half or whole milk Butter for pan fryingAny type of 1 ...
Read more This is a variation of the biscuit monkey bread. Chrissy's siblings always enjoyed it better made with frozen bread and I prefer the Bridgford brand. Ingredients2 loaves Bridgford Frozen Bread (thawed) 1 ½ sticks butter or margarine 2 tbsp cinnamon 1 cup white sugar 1 1/2 cup brown sugar 1 ...
Read more