Recipes With Course:
Breads & Rolls Posted in response to a request for butter rolls. Ingredients1 can biscuits 1/2 cup sugar 1/2 cup butter Sauce: 2 cups milk 1/2 tsp cloves 1/4 cup flour 1 cup sugarDirectionsStep 1Roll out each biscuit to 4" or 5" in diameter on a floured surface. Step 2 Drop a teaspoon ...
Read more This is a delicious, freezable bread that no one will ever guess is made with zucchini. It's good served warm or cool. Can be iced with a powdered sugar glaze if desired or slather on some cream cheese on top. Ingredients3 eggs 1 1/2 cups sugar 2 cups grated zucchini ...
Read more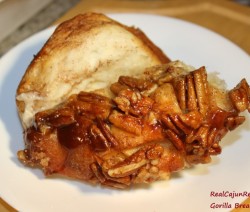 This is a relatively new popular Cajun dish. It closely relates to Monkey Bread (recipe on site), a popular dessert bread. Ingredients1/2 cup granulated sugar 3 tsp cinnamon 1/2 cup butter (1 stick - 8 tablespoon) 1 cup packed brown sugar 1 (8 oz) package cream cheese 2 (12 oz) ...
Read more Jon Miller for Audrey Breaux Miller Tres Bon (Very Good) is a perfect phrase to describe this soft, brownie-like cookie. Ingredients1 lb brown sugar 2 large eggs or 3 medium eggs 1 stick melted butter 1 tsp vanilla 1 cup chopped pecans 2 cups self-rising flourDirectionsStep 1Preheat oven to 325 ...
Read more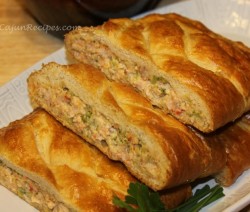 Crescent Rolls Stuffed with a Crawfish and Broccoli mixture.This "crawfish bread" at a party is a big hit. Easy to prepare and can be made with crab, shrimp or crawfish. Serve as an appetizer or as an entree. Ingredients1 package crawfish tails or cleaned shrimp (approximately 1 pound) 1 cup chopped ...
Read more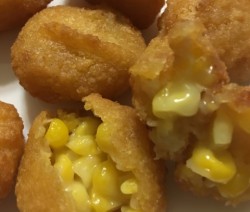 These taste like little fried corn. Whether you call them nuggets or fritters, these are totally delicious Ingredients2 eggs 1 cup milk 2 cups flour 3 tsp baking powder 1 tsp salt 1 (15 oz) can cream style corn 2 tbsp melted shortening Oil for frying1 teaspoon sugar (optional)1 can whole ...
Read more This is a traditional biscuit recipe that has been modified for contemporary tastes. These have a light, sweet taste and are perfect for breakfast. Ingredients2 cups flour 1/3 cup sugar 2 tsp baking powder 1/2 tsp baking soda 1/4 tsp salt 8 ounces lemon yogurt 1 egg slightly beaten 1/4 ...
Read more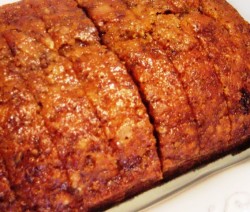 Pumpkins are harvested in early fall, and echo the changing colors of the leaves. Pumpkins are readily available, inexpensive and can be used for many dishes. So why not plan and spice up a holiday dish around pumpkins? This bread is perfect for it. Ingredients3 1/3 cups flour 1 cup ...
Read more