Search Results For
Rice Dressing ...Boudin, one of the more popular Cajun delicacies, can be purchased from just about every supermarket, convenience store and restaurant, is basically a rice dressing stuffed in casing. Take your favorite meat (most popular are pork, crawfish and shrimp), add seasonings and rice, stuff it all in a sausage, add ...
Read more ...The blend of three Cajun favorite vegetables in a smooth dressing is sure to appeal. Great as a side for any meal – bring on the rice dressing or the rice and gravy!...
Read more ...From the author: This is a Fried Turkey Recipe everyone will love. Not hot, no weird spices that produce a non-traditional Thanksgiving Turkey Flavor, this recipe is a garlicky, buttery, flavorful original Cajun Deep Fried Turkey. I worked for years perfecting this recipe and it is absolutely the best traditional, ...
Read more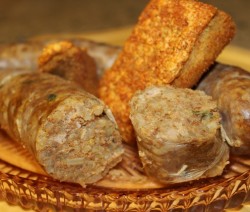 ...This is the best classic boudin out there. Boudin is also spelled "boudoin." Both are proper spellings of the same classic Cajun dish....
Read more ...Perfect when you don't have much time and need a quick, healthy meal. This recipe is especially fitting for the diabetic in your family or person who can't handle lots of spice....
Read more ...The dressing can be used as a side dish in lieu of rice or for turkey, chicken or duck stuffing....
Read more