Search Results For
Gumbo ...The secret to this gumbo is the roux! Always use warm to hot water to dissolve the roux. While you're at it, make extra roux as it keeps well in or out of the refrigerator....
Read more ...I cook this with rabbit, since I have an abundance of them, but chicken, duck, quail, or venison will work too, whatever you have on hand. If you can't find andouille sausage, use plain smoked link sausage, or try to find a hot link sausage. That's the good thing about ...
Read more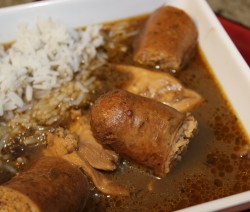 This gumbo is a favorite of my family, my aunt taught me how to make it.
Read more ...Gumbo's thickness is similar to that of stew. You may make it thinner by adding a cup of vegetable or chicken broth....
Read more Gotta Love this Chef, his cooking and his comments: Chef Rico writes: I got Canadian Cajun blood back on my Mom's side which makes me 1/32nd Cajun. I'm sure it's all in my right foot cos that's the one that taps the hardest when I play Clifton Chenier on the ...
Read more ...This recipe was given to me by my grandmother. It comes from her mother I guess it was a simple recipe to feed a lot....
Read more When you are a displaced Cajun and do not have access to fresh sausage, here is an easy alternative – Make them yourself. On a typical boucherie day when the hog is slaughtered and the sausage is prepared, the sausage links which are soft are hung outside on a clothes ...
Read more