Search Results For
Gumbo ...A mouthwatering gumbo deep from the heart of Acadiana swamp country. Seafood gumbo cooking at it's finest. Lump bayou crab meat and bayou hot shrimp with the fixins of Cajun vegetables and the secret of Brookie's bayou juice....
Read more Here is a novel idea for leftover gumbo. Use it to wake up your ground meat dish.
Read more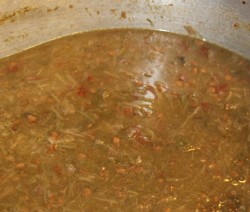 ...The cook shares – I find most gumbo recipes to watery for my taste. So I loaded this one up with a bunch of stuff – chicken, smoked sausage, shrimp and okra. I use a dark roux, which doesn't thicken the gumbo as much as a light one. Therefore the ...
Read more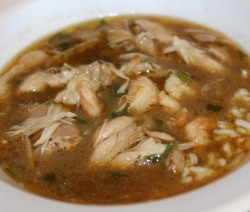 ...A true Cajun classic. The original recipe had 2 tbsp vegetable oil and 2 tbsp flour and quarts of water. At the end of the cooking cycle right before being served, the powdered file was added and the cook would dip the ladle in and out of the gumbo aerating ...
Read more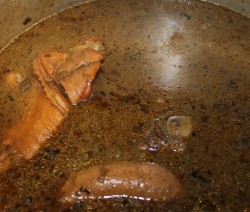 This fresh hen gumbo will have you wanting to lick the bowl!
Read more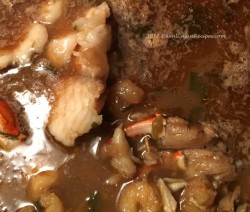 This is a great gumbo recipe from the Houma, Louisiana area. Great anytime but perfect during Lenten season.
Read more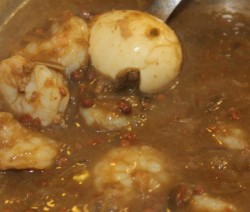 ...Cajun are really a unique culture and there are regional differences in both language and food. There are so many different types of gumbos. The file' and a small amount of roux are used for the thickening agent....
Read more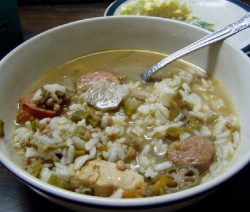 ..."As a little girl, I used to sit in my Granny's kitchen in Lafayette and watch her chop the veggies for this fabulous gumbo. It's very filling, and for me, it's the ultimate comfort food. It's made with a lighter roux, and the spice can be adjusted with a little ...
Read more