Search Results For
Gumbo ...tes: Annie Mae Abshire was born, raised, married and lived in Kaplan, LA, for all 88 years of her life. She was a loving mother, grandmother and great-grandmother who will be missed by all. With her passes a part of our Cajun heritage – memories, language, food and experiences – ...
Read more ..."Jambalaya and a crawfish pie and fillet gumbo… 'Cause tonight I'm gonna see my ma cher amio" Could this be the same crawfish pie in this "Jambayla" song?...
Read more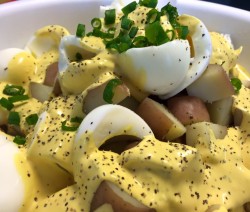 ...Momma would serve her family of nine children this potato salad to go with her Sunday roast or chicken gumbo....
Read more ...This homemade Andouille sausage is the real thing, and it IS spicy! It's great for seasoning beans and gumbo; or use it in anything else that calls for smoked sausage. I use pecan or hickory wood for the smoke, but any fruit wood would do....
Read more ...This is a side dish and it is good! My mother has won everyone over at church and service league with this crowd pleasing potato salad. This creamy, yet flavorful potato salad wins everyone over and is a great side dish with fried chicken, gumbo or barbecue. You can make ...
Read more ...We sold these at the Saturday Food Festival at the World Championship Gumbo Cook-off and they were a big hit....
Read more