Recipes With Course:
Cakes & Candy I have made this cake from scratch many times, b ut I was in a hurry one day & decided to "cheat" a little. I used a Duncan Hines yellow cake mix. Could not tell much difference! IngredientsCake:1 box Huncan Hines yellow cake mix1 small box instant vanilla pudding2/3 cup ...
Read more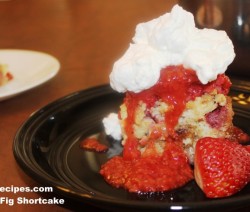 This recipe is an adaptation of Cuisine at Home recipe using strawberry fig or plain fig preserves and making the topping with a combination of  fresh.and cooked strawberries.     IngredientsShortcake Dough2 cups flour1/4 cups granulated sugar1 tablespoon baking powder1/2 teaspoon salt8 tablespoons cold unsalted butter1 cup diced strawberry4 oz ...
Read more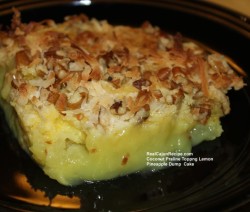 Such an easy cake make and the praline topping is so good- Your friends will think you slaved all day to make it. Even better left overnight in the fridge. Ingredients1 can 16 ounce lemon pie filling 1 can 20 ounce crushed pineapple undrained 1 package (15 ounce) lemon cake ...
Read more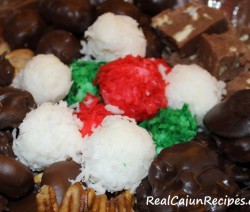 Melt in your mouth bon-bons. So festive for holiday sharing. Ingredients2 cups powdered sugar1 - 3 ounce package cream cheese 1 cup grated coconut 1/2 teaspoon vanilla candied cherries optionaloptional red and green food coloringpecans, dates or apricot for center optionalDirectionsStep 1Work sugar into cream cheese with hands; mix well. ...
Read more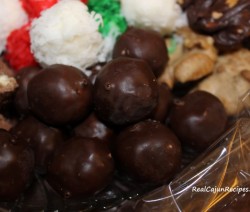 One bite and you are hooked. These are so good and perfect for sharing as the cook does every holiday season. Ingredients1 pound pecans, chopped1 stick butter - 8 tablespoon1 can condensed milk 1 can coconut 1 1/2 pound powdered sugar 2 giant chocolate bars 1 small cake paraffin DirectionsStep ...
Read more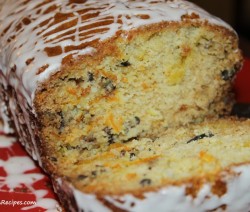 Wikipedia….Kumquat culinary uses include candying and kumquat preserves, marmalade, and jelly. Kumquats can also be sliced and added to salads. In recent years kumquats have gained popularity as a garnish for cocktail beverages, including the martini as a replacement for the more familiar olive. A kumquat liqueur mixes the fruit with vodka or other clear spirit. Cheers!! Ingredients2/3 cup milk2 beaten eggs2 ...
Read more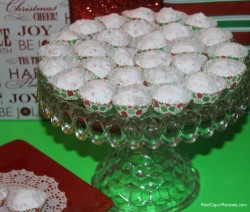 An old family recipe from Fayetteville NC that was graciously shared. This is a memory maker cookie – excellent for Christmas gift giving and sharing with friends and family. A great party snack.   Ingredients1 stick butter (8 tablespoons)2 tablespoon granulated sugar1 teaspoon vanilla1 cup pecans chopped1 cup sifted all ...
Read more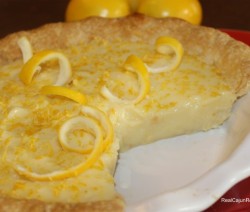 Lemons – a simple sour pleasure made even better with the ole-timey recipe. Simple ingredients – Simple good Ingredients2 cups whole milk or 1 cup whole milk and 1 cup evaporated milk1 cup granulated sugar3 tablespoon cornstarch3 tablespoon flour2 eggs yolks (reserve the egg whites for meringue)2 lemons juiced or ...
Read more