Recipes With Course:
Cakes & Candy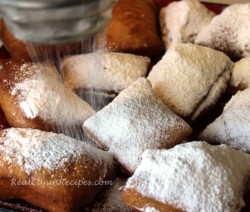 This recipe was taken from an artist print that was purchased back in 1987 and edited for clarity of instructions. The print was signed by the artist Merry Pierce-Lowrey. Serve beignets with cafe au-lait or a cold glass of milk. Ingredients1/4 cup shortening1 package active dry yeast or 21/4 tsp ...
Read more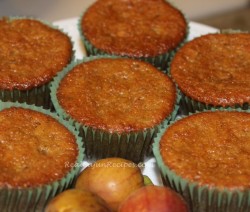 Making muffins is the perfect dish to make when figs first ripen and there is not enough to make a batch or preserves or jam. Fig Cake taste using fresh figs, These muffins are so good you will want to freeze figs to make these again. Ingredients1/2 cup cooking oil ...
Read more Chocolate pie is great for holidays or any day your grandchildren wishes their favorite pie to be made. Ingredients1 1/2 cup sugar. 1/3 cup corn starch3 cups milk4 egg yokes *beat lightly 1 tbsp and 1 tsp vanilla 2 - one ounce chocolate squares pre-melted1 pie crust baked until lightly ...
Read more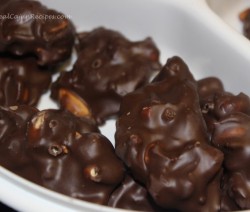 Holiday candy – Great for sharing   Ingredients1/2 pound sweet chocolates (Nestles Semi Sweet Morsels)1 -14oz can condensed milk1 cup unsalted peanutsDirectionsStep 1Melt chocolate over water in a double boiler or in microwave.Step 2Remove from heat and add the condensed milk and peanutsStep 3Cover all the nuts with the mixtureStep ...
Read more
Pumpkin Spice Cake made easy with three ingredients. This is a  moist, fluffy pumpkin spice cake recipe with powdered sugar frosting. Easy to make recipe and perfect for the holidays! Ingredients3 eggs 1 - 15 ounce can solid pack pumpkin1 package 18 ounces spice cake mixThe Glaze 1 cup powdered sugar 5 to ...
Read more A quick and easy glaze for cinnamon rolls, bundt cakes  or cookies. Ingredients2 tablespoons butter, softened1 1/2 ounces cream cheese room temp3/4 cup powdered sugar1 tablespoon half-and-half or evaporated milk1/4 teaspoon vanilla extractDirectionsStep 1Beat cream cheese and butter until very creamy. Step 2Add in the powdered sugar to mixture and ...
Read more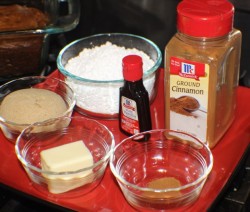 Perfect frosting for a nice change from powdered sugar frosting Ingredients1/4 cup (3 tablespoon) butter1/2 cup firmly packed brown sugar1/2 teaspoon cinnamon2 tablespoon evaporated milk1 teaspoon vanilla extract1 1/2 cups powdered sugar or more if needed1/2 cup chopped pecans, toastedDirectionsStep 1Place pecans in microwve for 1 minute - Set asideStep ...
Read more Fig bars are bar cookies that contain figs. Each fig bar is square-shaped with a baked cookie dough outer crust and a thick fig filling inside. The Fig Newton® commercial fig bars by Nabisco started many other companies manufacturing similar cookies. The Fig Newton® was invented by American, Charles M. Roser, in ...
Read more