Recipes With Course:
Cakes & Candy Ingredients1 box yellow cake mix1 box instant vanilla pudding mix1-1/2 sticks butter (12 tbsp)1/2 cup milk1/2 cup Jack Daniels5 eggs1 pack butterscotch morsels8 oz Walnut pieces, small in sizeTopping Glaze:1 stick butter1 cup sugar1 eggDirectionsStep 1Sift cake and pudding mix togetherStep 2Add butter, milk, eggs; beat long and hard by ...
Read more Perfect for cakes and sweet dough tarts! Being from a large family, we loved when Momma made her German chocolate cake. The kids would fight to lick the spoon. Ingredients1 cup sugar1 block butter3 egg yolks 1 1/4 cup evaporated milk1 tsp vanilla ( I only use Big Chief) 1 ...
Read more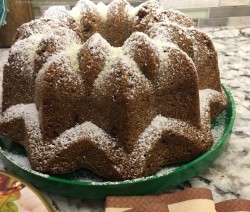 Crunchy and Different and Absolutely Delicious Ingredients2 cups sugar3 cups flour1 teaspoon soda1 teaspoon salt1 teaspoon cinnamon1 1/2 cups Wesson oil3 eggs1 teaspoon vanilla3 cups chopped red apples - do not peel1 cup chopped nuts Powdered sugar for dustingsweetened whipped cream optionalDirectionsStep 1Sift together dry ingredientsStep 2Add oil, eggs and ...
Read more Bring back the memories – Old Fashioned School House Peanut Butter Balls Ingredients1 (18 oz) jar peanut butter1 stick margarine or butter1/4 pound paraffin1 (1 pound) box confectioners sugar1 (12 oz) package chocolate chipsDirectionsStep 1Melt margarine and peanut butter over low heat; stir often. Step 2 Remove from heat and ...
Read more Perfect for bundt cakes, coffee cakes, apple cake …did I mention cake? Ingredients1/2 cup flour1/2 teaspoon cinnamon1/2 cup brown sugar4 tablespoon softened butter DirectionsStep 1For the crumb topping, mix the butter with flour, cinnamon, and brown sugar until crumbs form. Sprinkle crumbs on top of cake and bake cake according ...
Read more