Recipes With Course:
Cakes & Candy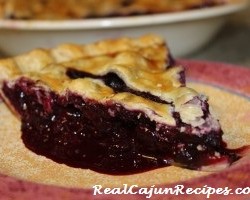 With July being Blueberry month – here are a few fun facts from the USDA and a great pie recipe adapted from Better Homes and Garden. ▪ Blueberries grow in clusters on bushes but don't ripen at the same time ▪ Blueberries are also called star berries ▪ Wild blueberries grow on low ...
Read more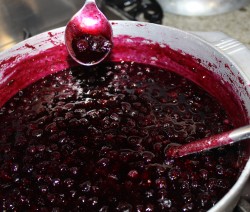 It is Blueberry Season and everyone loves blueberries also known as star berries We love them fresh picked eaten straight from the bush or baked into a favorite dessert or we enjoy them as jam, preserves and jelly. Maine is the blueberry production capital of North America but they are grown in ...
Read more The best cheesecake in the world, oh my! If there's cheesecake in the house, I'll have some and if not I will make this one. Because you don't live near a bakery doesn't mean you have to go without cheesecake; you can make this one. IngredientsFilling1 1/13 cup granulated sugar1/2 ...
Read more This candy was prepared for 70 co-workers. I was glad I was one of them. This candy is quick and easy to make. Where did anyone come up with the name "bark" to describe a holiday candy that comes in sheets made of chocolate or similar meltable confections with pieces ...
Read more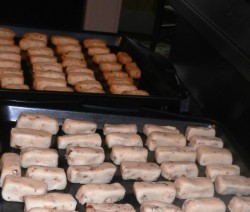 This cookie was served annually at my Alma Mater. A favorite for the high school homecoming teas. It grew to be one of our family favorites. We always had these at Christmas time as pecans were in season at that time. Ingredients1 pound butter room temperature 1 cup powdered sugar ...
Read more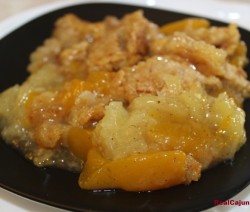 So Good – So Easy – Easy as 1-2-3 IngredientsLayer One 1 tall can crushed pineapple 1/2 cup sugar 2 tbsp flour or cornstarch Layer 2 1 can 16 oz sliced peaches or 2 cups fresh peaches 1/3 cup sugar (for syrup mixture) 1/2 tsp cinnamon 1/4 tsp nutmeg 2 ...
Read more This is a sweet dish that contains no actual turtles 😉 Ingredients1 box packaged German Chocolate Cake mix 14 ounces package caramels 1 stick butter 8oz. 1 can condensed milk 4 packages package chocolate chipsDirectionsStep 1Follow package direction - prepare and mix cake. Pour one half of mixture Into a ...
Read more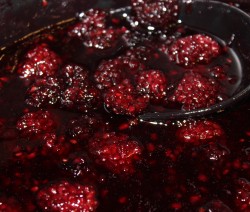 Snakes and Blackberries go hand in hand. If you have ever picked blackberries you probably know that, already! The picture shown is the blackberries cooking before adding the dumpling. IngredientsBLACKBERRIES 1 gallon blackberries 4 cups sugar (may need 5 cups) 3 quarts water DUMPLINGS 1 1/2 cup self-rising flour 3 ...
Read more