Recipes With Course:
Cakes & Candy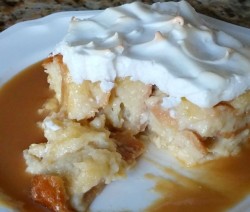 This is one of Elizabeth's favorites also….  Photo Credits to  Elizabeth Bourgeois Fuller.. Ingredients8 bread slices, broken up 4 cups milk, warmed 4 eggs, separated 1 (12 oz) can evaporated milk 1 tbsp vanilla plus 1 tsp vanilla 1 1/2 cups sugar 1 (20 oz) can crushed pineapples, drained 1/2 stick ...
Read more This fudge is one of my children's favorite candies. Our family always made this fudge at holiday time. Ingredients3 cups white sugar 1 cup homogenized milk 5 tbsp butter 1 quart whole pecans 1 tsp vanillaDirectionsStep 1Butter a 9x9 baking pan or corning dish. Step 2 In a large saucepan, ...
Read more Mawmaw always cooked these at Christmas time. Ask Chad, Colby and Chrissy what they think of these. Ingredients2 3/4 cups flour 2 1/2 tbsp baking powder 1/2 tbsp salt 2/3 cup shortening 1 lb brown sugar 3 eggs 1 cup pecans, chopped 1 (6 oz) package chocolate chipsDirectionsStep 1In a ...
Read more Ingredients3 cups sugar 3/4 cup margarine 2/3 cup carnation milk 12 ounces semi-sweet chocolate morsels 1 (7 ounce) jar Kraft Marshmallow crème 1 cup pecans chopped 1 tsp vanillaDirectionsStep 1Combine sugar, margarine, and milk in a heavy saucepan. Bring to a rolling boil, stirring constantly. Step 2 Continue boiling 5 ...
Read more Ingredients1 stick butter 1 cup graham cracker crumbs 1 cup chocolate chips 1 cup shredded coconut 1 cup chopped pecans 1 can condensed milkDirectionsStep 1Melt margarine and put into a 13x9 cake pan. Layer graham cracker crumbs on top, then coconut. DO NOT STIR! Step 2 Add chocolate chips, pecans, ...
Read more Quick and Easy Brownies Ingredients2/3 cup evaporated milk 3/4 cup butter, melted 1 box German Chocolate or Devils Food cake mix 1 (11 oz) package caramels 1 cup pecans or walnuts 1 (16 oz) package chocolate chipsDirectionsStep 1Mix 1/3 cup evaporated milk, cake mix and butter. Pour half of the ...
Read more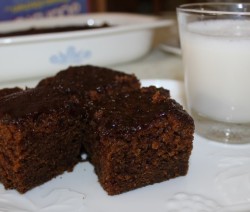 In memory of Nan Boone Marceaux and Nanny Quida Broussard Recipe over 125 years old The LeMaire and Faulk families enjoyed Nan Boone's delicious syrup cake for many years before the recipe was finally passed on. Nan Boone was often asked for the recipe but always said it was ...
Read more Ingredients1 box German Chocolate Cake Mix 1/3 cup oil 2 eggs 1 tsp vanillaDirectionsStep 1Mix all above ingredients and drop by spoonful onto cookie sheet. Step 2 Bake at 350 degrees for 12 minutes
Read more