Recipes With Course:
Cakes & Candy Ingredients2 cups sugar 1/2 cup cocoa 1/2 cup milk 1 stick butter 1/2 cup crunchy peanut butter 3 cups quick cooking oats 1 tsp vanilla extract 1/2 cup chopped nuts 3/4 cup flaked coconut Wax paperDirectionsStep 1In a large saucepan combine the sugar, cocoa, milk and butter. Bring to a ...
Read more Coca-Cola lends a lot of flavor to this cake frosting. The frosting can be used for any cake, but it goes really well with this recipe for Coke Cake. Ingredients1/2 cup margarine 3 tbsp cocoa 6 tbsp Coca-Cola 1 box powdered sugar 1 cup pecans, choppedDirectionsStep 1In a medium pot, ...
Read more Coke lends a lot of flavor to this cake. Frosting for this cake is on our website appropriately titled 'Coke Cake Frosting.' Ingredients2 cups sugar 2 cups flour 1 1/2 cup marshmallows, chopped 1/2 cup shortening 1/2 cup margarine 3 tbsp cocoa powder 1 cup Coca-Cola 1/2 cup buttermilk 1 ...
Read more Ingredients1/2 cup Crisco 1/2 tsp baking soda 1/2 tsp salt 1/4 tsp ground nutmeg 1 cup sugar 2 eggs 2 cups flour 1 tsp baking powderDirectionsStep 1Mix all together. Drop from a teaspoon and flatten with a glass dipped in sugar. Step 2 Bake at 350 degrees for 10 minutes ...
Read more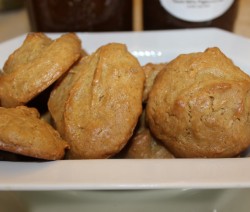 Figs are a delicious fruit, often thought of as sacred. At one time, Greece even made it illegal to export figs, wanting to make sure that they had the advantage at the Olympic Games. Mawmaw sure would've high jumped for fresh figs to make her jam and preserves. Ingredients2 cups ...
Read more Ingredients2 sticks butter 1/2 cup Crisco 3 cups sugar 3 cups flour, sifted before measuring 1/2 tsp baking powder 1/2 tsp salt 1 cup milk 2 tsp vanilla 5 eggs 1/2 cup cocoa 1 angel cake or bundt cake panDirectionsStep 1Cream butter, Crisco and sugar. Add eggs, one at a ...
Read more This is a recipe my mom used to make to take to work. It was really good, and she'd always have to make sure my sister and I didn't eat it before she got it out of the door. Ingredients4 cups peeled apple slices 2 cups sugar 2 cups flour ...
Read more Ingredients1 cup sugar 1 bottle white Karo Syrup 2 tbsp water 1/2 tsp salt 1/2 tsp vanilla flavoring ½ cup raw peanuts 1 tsp baking sodaDirectionsStep 1Mix ingredient together in a pot and bring to a boil. Add the peanuts, stirring continuously. Cook until the peanuts begin to pop. Step ...
Read more