Recipes With Course:
Cakes & Candy Ingredients1 1/2 cups sugar 2 egg whites 5 tbsp water Pinch of tartar powderDirectionsStep 1In a medium saucepan, combine sugar, egg whites, tartar powder and water. Step 2 Bring to a boil, stirring constantly until mixture thickens. Add the vanilla and spread over your favorite cake or dessert.
Read more Ingredients3 egg whites 1 1/2 cups sugar 1/4 cup water Pinch of salt 1/8 tsp cream of tartar 2 tsp light corn syrup 2 tsp vanillaDirectionsStep 1In the top part of double boiler, combine egg whites, sugar, water, salt, cream of tartar and corn syrup; beat with a hand held ...
Read more A quick, easy and delightful scratch cake. Called a 2×2 because all ingredients are an increment of the number 2. Fresh pineapple can be substituted for canned pineapple (and vice versa) in equal measure. Place 1 cup of pineapple chunks in a blender and put it on "chop" setting for 30 seconds. ...
Read more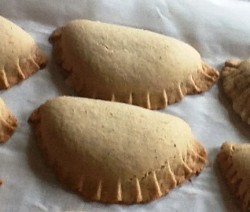 A small pastry with a usually sweet filling = the tart can be made open or closed. The tart can be filled with fig preserves, blackberry filling, pineapple, sweet potato, bouille..if you like it ..fill it… Ingredients1 cup butter-flavored Crisco 2 cups sugar 4 eggs 1 tsp vanilla 2 tbsp milk 4 1/2 cups all-purpose ...
Read more Ingredients Ingredients2 egg whites 3 tbsp sugar (or 4 tbsp powdered sugar) 1/4 tsp cream of tartar 1/2 tsp vanillaDirectionsStep 1Preheat oven to 350 degrees. Step 2 Whip egg whites until frothy. Step 3 Add the cream of tartar. Whip until stiff and not dry and until the mixture stands ...
Read more Ingredients Ingredients1 cup shortening 2 cups brown sugar (packed) 2 eggs 2/3 cup sour milk or buttermilk 4 cups sifted flour 1 tsp baking soda 1 tsp salt 1 cup pecans chopped 2 cups chopped dates 2 (4 oz) cans of candied fruits and peelsDirectionsStep 1Cream shortening and sugar. Add ...
Read more Ingredients2 2/3 cups cake flour, sifted 3 tsp baking powder 1/2 tsp salt 1/4 cup butter, softened 1 1/2 cups sugar 5 egg yolks 1 tsp vanilla extract 1 cup milk 5 egg whites 1/2 tsp cream of tartarDirectionsStep 1Preheat oven to 350 degrees, positioning rack in center of oven. ...
Read more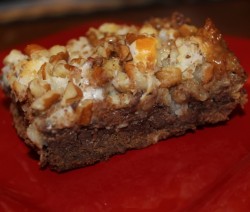 This was one of my grandson Colby's favorite cookies at Christmas. Now he makes his Mom do them. Ingredients1/2 cup butter or margarine 1 package Betty Crocker German Chocolate Cake Mix 3 cups miniature marshmallows 1 (6 oz) package semi-sweet chocolate chips or butterscotch 1 1/2 cups flaked coconut 1 ...
Read more