Recipe Type:
Shortcuts Ingredients1 (14 oz) can condensed milk 1 (21 oz) can cherry pie filling 1 (20 oz) can crushed pineapples, drained 1 container of CoolWhipDirectionsStep 1Mix all ingredients together and freeze for an hour or two.
Read more Home made jam for diabetics. Ingredients1 (16 oz) can unsweetened applesauce 2 (4 oz) packages sugar free jelloDirectionsStep 1Warm applesauce in saucepan until hot but don't let it boil. When the applesauce is warm enough, add 2 packages of your favorite jello. Stir until well blended. Step 2After it is ...
Read more Sweet and sour, but mostly sweet. Ingredients1 gallon jar Classic Kosher Whole Dill Pickles 5 - 6 cups sugar 6 cloves of garlic, slicedDirectionsStep 1Drain all of the juice in the gallon jar of pickes. Discard. Step 2Slice the whole pickles into 1/4 inch coins. Step 3Return the pickles to ...
Read more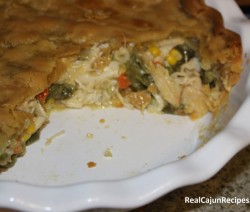 Quick and Easy – Good and Yummy! And super for leftover chicken and turkey. Ingredients2 Pillsbury pie crusts 1- 2 pound bag of frozen mixed vegetables 1/2 stick butter - 4 tblsp 1 (10 oz) can cream of chicken soup 1 (12 oz) can white chunk chicken breast or 1 ...
Read more Ingredients3 cups Bisquick biscuit mix 1 cup grated mild cheddar cheese 1 cup milk 1 tbsp parsley flakes 4 tbsp cold butter plus 2 tbsp melted ½ tsp garlic powder plus 1/4 tspDirectionsStep 1Preheat oven to 375degrees. Step 2In a large bowl, using a pastry blender or large fork, blend ...
Read more Ingredients Ingredients1 Devil's Food Cake mix 2 boxes chocolate pudding mix 2 small tubs of cool whip 1 package Oreo cookiesDirectionsStep 1Make the Devil's Food Cake and the chocolate pudding as directed in their instructions. Step 2 In a 9x12 or 8x8 dish, crumble 1/2 of the cake for the ...
Read more Ingredients3 egg whites 1 1/2 cups sugar 1/4 cup water Pinch of salt 1/8 tsp cream of tartar 2 tsp light corn syrup 2 tsp vanillaDirectionsStep 1In the top part of double boiler, combine egg whites, sugar, water, salt, cream of tartar and corn syrup; beat with a hand held ...
Read more Ingredients1 (21 oz) can Comstock Peach Pie Filling 1 (16 oz) package frozen strawberries, thawed 1 (15 oz) can manderin orange slices, drained 1 (20 oz) can pineapple chunks, drained 3 bananas, slicedDirectionsStep 1Combine all ingredients and serve. Chilling enhances the flavor. Substitutions: Use canned cherries, apples or your favorite ...
Read more