Recipe Type:
Classics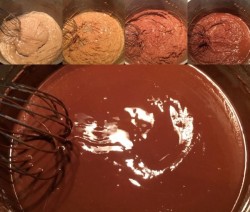 Many Cajun recipes start with "First You Make A Roux" and Most Cajun dishes start with a good roux. Ingredients3/4 cup oil (Canola or Vegetable) 1 cup all purpose white flourDirectionsStep 1Heat a heavy skillet or cast iron pot and add oil. Once oil is heated, slowly add the flour, stirring ...
Read more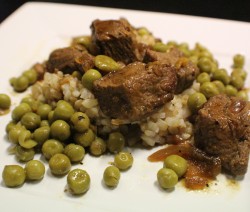 Rice and gravy is a staple here in South Louisiana. It's one of the first things you learn to cook. Any meat can be used, including chicken. This recipe was used in an instructional blog post if you'd like to have more guidance or see more photos. Ingredients1 lb round ...
Read more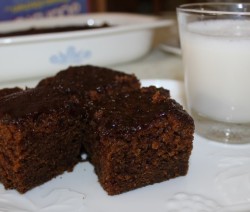 In memory of Nan Boone Marceaux and Nanny Quida Broussard Recipe over 125 years old The LeMaire and Faulk families enjoyed Nan Boone's delicious syrup cake for many years before the recipe was finally passed on. Nan Boone was often asked for the recipe but always said it was ...
Read more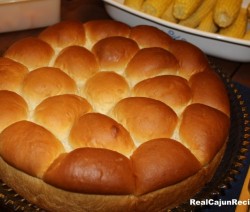 Remember the bread rolls you had in school? These are the old-fashioned schoolhouse fresh melt-in-your-mouth rolls. This recipe is from a former school cafeteria worker. Ingredients4 3/4 cups all purpose white flour 1/3 cup shortening 1/3 cup powdered milk 1/3 cup sugar 2 tsp salt 1 3/4 cup water (room ...
Read more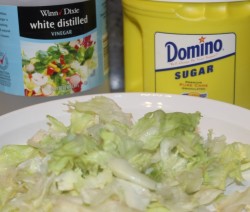 Grandma always had fresh lettuce in her vegetable garden; this was a daily dish during the spring and fall months.  Because they stay crisp, romaine leaves are great to use for this recipe also. Ingredients1 head lettuce leaves, washed and drained 1/2 cup white vinegar 1/4 cup water 1/2 cup granulated ...
Read more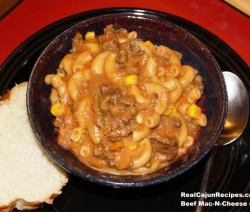 This dish is easy, inexpensive and yummy comfort food being mixed into one pot! Hungarian Goulash where the dish name Goulash originated was a stew mixture made with beef and vegetables. My guess is because what you cooked ended up in one pot where you "mixed all the stuff" together. ...
Read more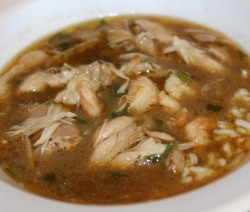 A true Cajun classic. The original recipe had 2 tbsp vegetable oil and 2 tbsp flour and  quarts of water. At the end of the cooking cycle right before being served, the powdered file was added and the cook would dip the ladle in and out of the gumbo aerating the broth; ...
Read more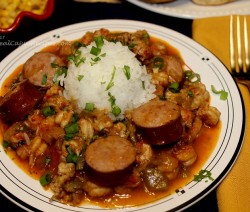 A Cajun dish so common, it's in everyone's recipe box. The no-soup etouffee -one of my personal favorites. Ingredients2 lbs peeled crawfish tails 1/2 stick (1/4 cup) butter 1/2 cup chopped celery 1 cup chopped onion 1/2 cup chopped bell pepper 2 cloves of garlic 1 tbsp cornstarch 1 tbsp ...
Read more