Recipe Type:
Classics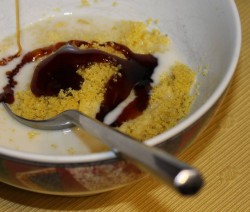 Ingredients5 tbsp cooking oil 2 cups yellow cornmeal 1 tsp salt 1 tsp sugar 1 tsp baking powder 2 cups milkDirectionsStep 1Pour four of the five tablespoons of cooking oil into a heavy iron skillet or saucepan that has a tight lid. Let it heat while you mix the remaining ...
Read more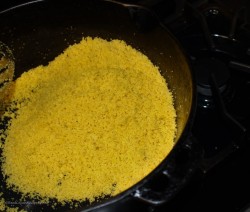 Ingredients2 cups yellow cornmeal 2 tsp sugar (optional) 1 tsp salt 1 1/2 cups water 1 tsp baking powder 5 - 6 tbsp oil (canola preferred)DirectionsStep 1Mix together all the dry ingredients. Stir the water in gradually and mix well. It will look like very wet cornmeal and the cornmeal ...
Read more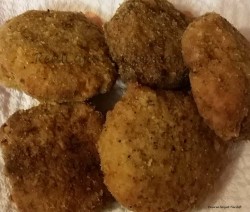 Garfish Patties or Choupique Balls Ingredients1 onion, chopped 1 bell pepper, chopped 3-4 cloves garlic, chopped 3 lbs Garfish meat Salt and pepper to taste 1 packet of fish fry or a mixture of 1/3 cup flour and 1/3 cup yellow cornmeal seasoned with 1/2 teasppon each black pepper, salt, ...
Read more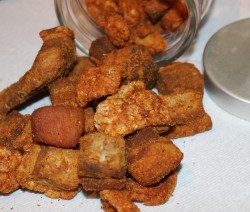 A great tasting snack especially with boudin (boudoin) or cush cush. IngredientsPork meat with fat attached Oil for frying Salt and pepper (red and black) to tasteDirectionsStep 1Method 1 - Cut pork into 2-inch squares. You should cut for skin, fat, and meat on each square. Step 2Place the pork ...
Read more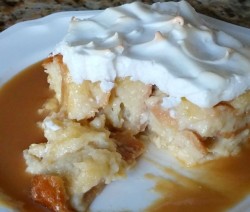 This is one of Elizabeth's favorites also….  Photo Credits to  Elizabeth Bourgeois Fuller.. Ingredients8 bread slices, broken up 4 cups milk, warmed 4 eggs, separated 1 (12 oz) can evaporated milk 1 tbsp vanilla plus 1 tsp vanilla 1 1/2 cups sugar 1 (20 oz) can crushed pineapples, drained 1/2 stick ...
Read more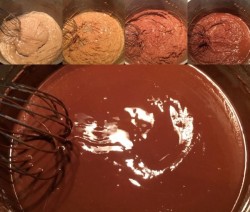 Many Cajun recipes start with "First You Make A Roux" and Most Cajun dishes start with a good roux. Ingredients3/4 cup oil (Canola or Vegetable) 1 cup all purpose white flourDirectionsStep 1Heat a heavy skillet or cast iron pot and add oil. Once oil is heated, slowly add the flour, stirring ...
Read more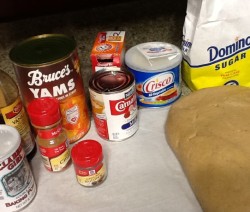 This tart recipe has been handed down from Doris' mother and my grandmother, Ella Broussard. Ingredients1 cup Crisco 4 cups flour 1 tbsp vanilla 2 cups sugar 5 eggs 5 tsp baking powderDirectionsStep 1Cream together the Crisco and sugar until fluffy. Beat eggs and vanilla into mixture. Slowly stir in ...
Read more During summer when eggplants were plentiful and shrimp were to be had, Momma would make this simple eggplant dressing. Cooking for 9 children always kept Momma busy. Ingredients2 large eggplants 1 large onion, chopped 3 cups cooked rice 1 bell pepper, chopped 1/2 cup parsley, chopped 2 tbsp oil 1/2 ...
Read more