Recipe Type:
Wild Game This recipe is from an old-time farmer who never let a turtle get by. If he was traveling along the road checking his crop or Sunday driving, you best believe he would stop his truck without hesitation (don't be behind him) and get the turtle crossing the road to make ...
Read more If you haven't had alligator before, it's been described as tasting like a combination of chicken and calamari. The texture is similar to rabbit or chicken. If you happen to kill yourself a gator, you can fry it, make a sauce piquant or make an smother it in an etouffée. ...
Read more Ingredients8 doves (or quail), cleaned and dressed Salt to taste Black and/or red pepper to taste Flour to coat doves 3 tbsp butter 1 tbsp finely chopped parsley 1/8 tsp thyme 1/2 cup finely chopped onion 1 (4 oz) can button mushrooms 1 cup white wine or chicken brothDirectionsStep 1Melt ...
Read more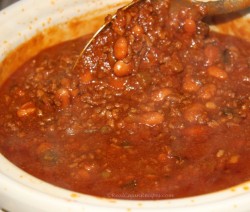 Chili always a favorite! Cooking slow and easy on the stove top or place in the slow cooker after browning the meat and basically forget about it.  It can be made with any combination of meats.such as beef, pork and venison. Ingredients5 tbsp Mexene chili powder 4 tbsp shortening 2 ...
Read more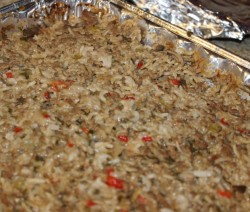 Also known as "Louisiana Dirty Rice", this dish is a true Cajun classic. There are many ways to make this dish, and this is one way from a friend of mine. Ingredients1 lb ground meat, browned 1 cup raw rice 1 (10 oz) can cream of chicken soup 1 can ...
Read more Boneless, skinless chicken breasts stuffed with fresh venison sausage. A spicy blend of Cajun cuisine that will please everyone's taste buds. Ingredients6-8 skinless, boneless chicken breasts 1/3 cup dry white wine 1/2 lb venison sausage 1/2 cup jalapeno peppers, chopped 1 onion, chopped 1 bell pepper, chopped 2 tbsp minced ...
Read more