Recipe Type:
Shortcuts Cajun word for Pineapple is ananas. Cajun word for Angel is ange. Cajun word for surprise is supris! Supris moi, s'il vous plait avec du gateau! Pineapple is one of the world's favorite tropical fruits. First called "anana", a Carribean word for "excellent fruit", the name "pineapple" came from European ...
Read more Baseball, Hot dogs, Apple Pie and Chevrolet! Ok everyone, date yourself – Do you remember that commercial in the 70's? Now we hear – LSU! LSU! Go team go! Try this delicious easy appetizer for your next tailgate party. Ingredients1 lbs Hot Dogs, sliced 1 can or bottle of beer ...
Read more Mincemeat is one of those foods that you either love or hate. The biggest question has always been, exactly what is mincemeat? Mincemeat is defined as a mixture of finely chopped apples, raisins, spices, meat, and rum or brandy, used especially as a pie filling. Sounds like I might just ...
Read more For a while, everyone in the small city where I was from was making this tea. The original recipe called for Start – an orange-flavored breakfast beverage popular in 1968. That alone dates this recipe. Ingredients1 can Start Orange Drink or Tang 1 large envelope Lipton Lemon flavored ice tea ...
Read more Enjoy this soothing drink. Great for a morning or mid-afternoon treat. Ingredients1 (3 oz) package Twist Lemonade or Crystal Lite 1 jar Tang 1 cup instant tea 1 1/2 cup sugar or Splenda 1 1/2 tsp cinnamon 1 1/2 tsp cloveDirectionsStep 1Mix together in a bowl. Store in a capped ...
Read more A great shortbread cookie to enjoy. Good for tea parties and a great treat to serve when sipping coffee with your friends. Ingredients1 stick butter 2 eggs 2 tbsp or 3 vanilla 1 cup light brown sugar 1 yellow cake mix 1 (12 oz) bag chocolate chipsDirectionsStep 1Melt butter. Step ...
Read more A quick, hot summer day treat made with pineapple. Ingredients1 (20 oz) can pineapple 1 box jello Vanilla sugar-free pudding 1 (8 oz) tub Cool Whip LiteDirectionsStep 1Mix pudding with pineapple and juice. Step 2 Add the Cool Whip and mix well, then put in refrigerate to set.
Read more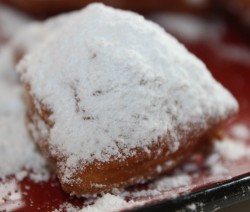 "This is a quick, easy and inexpensive way to make bite-sized beignets. My family has made these little beignets for as long as I can remember. Enjoy!!" Ingredients1 can homestyle biscuits 1 box confectioners sugar 2 cups cooking oilDirectionsStep 1Line a serving plate with several absorbent napkins and set aside. ...
Read more