Cajun Roadkill
Pooh Yie! I been to Holly Beach!
Last week, I went to Louisiana to get as much video as possible of Cajun traditions and of my grandma and great aunt (taunt) telling stories. I came back with about 6 hours of video but I still have to encode it. Still, I wanted to share something with y'all that I took with my little digital camera.
I got to Louisiana on Friday and left Saturday morning early to go crabbing near Holly Beach. On the way, I saw what I like to call "Cajun Roadkill". Click on the picture below to see: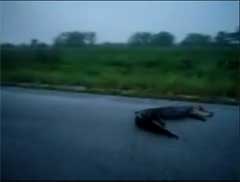 If you can't make it out, it was an alligator. And I'da took it home to put in a sauce piquante if I would have been in a truck!
This week I'll be encoding video of crabbing, a crawfish boil, riding around in Holly Beach and some old Cajuns talking. I even got my great aunt on film telling me how she makes preserves. I'll be posting it all here as soon as I find the time to encode and edit.