Crawfish Boils
One of the most popular pastimes in Sothern Louisiana is having a big ol' crawfish boil. I think that was one of my favorite things to do growing up, other than playing Nintendo.
My mom was the tax lady of the town and sometimes her customers would come bearing gifts — huge 10lb sacks of crawfish! I'd get so excited and I couldn't wait to hear the sounds and smells of the butane tank burning. Here's our family, back in the 1980s, enjoying a crawfish "bawl" in our backyard.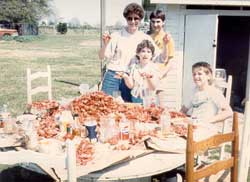 Judging from the dying grass and my mom's glasses, I'd put this around the spring of 1986. Seems we enjoyed A&W root beer and Pepsi products. There's also Tabasco there but I was never really a fan of tabasco in my crawfish dip. The "dip" consists of 2 parts mayo, 1 part ketchup. As I grew older, I also added a bit more crawfish boil seasonings to the dip and that's how I continue to eat it today. Nowadays in Los Angeles though, my crawfish boils are actually shrimp boils and I use a gas stove instead of a butane burner.
 
So let's look at what happens during a crawfish boil. First thing, you get a couple 10lb sacks of crawfish from a local farmer or crawfish stand. Rule of thumb is generally about 3-5lbs per person.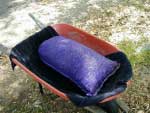 (Most of these pictures are used with permission from 
Kenneth's website
. Thanks Kenneth!)  
Next, and this was one of my favorite things to come home to, we'd throw the crawfish in the bathtub to "purge" them. In order to do this, we'd throw the crawfish in the bathtub, fill it with water and empty about 1 container full of salt into the water. I guess salt water makes the crawfish "purge" all of the stuff that's in its intestinal track and thus, we don't have to worry about pulling out the "poo" when we eat the tails. In the picture below, they used an outside tub to clean the crawfish.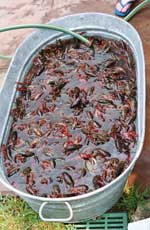 Next, you start up your burner to get the water boiling and then you gather all of your seasonings and vegetables. This includes "crawfish boil", potatoes, onions, and ears of corn. 
Ken
 also reminded me that some people put in hot dog weiners, mushrooms, smoked sausage and artichokes too. Others also add lemons for flavoring and sometimes carrots. As far as the seasoning goes, we used the 
liquid kind
 growing up but now I prefer the 
dry stuff
. Zatarain's also sells a "boil in bag" but I've never really liked that kind. My favorite crawfish boil comes from the company Louisiana Brand and, luckily, they are pretty easy to find here in Southern California 😀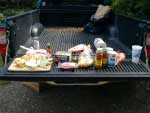 Now that the water is at a rolling boil, it's time to add in the vegetables and let that cook for awhile. Once that's done, it should go into an ice chest to keep it warm while the crawfish boils. Now add in more boil and throw in the crawfish 😀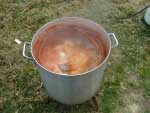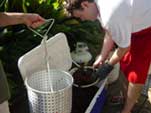 Once your crawfish are done, it's time to eat! At this point, newspaper, garbage bags or paper grocery bags are laid out on a table and crawfish, potatoes, onions and corn are laid out on top. Next, the tails are peeled off, dipped in dip and eaten. MMmmmM!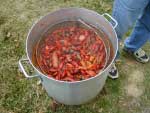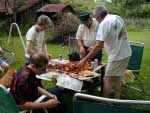 There are also resturants in Acadiana that specialize in serving boiled crawfish. "Richard's Seafood Patio" (pronounced ree shard's) in Abbeville is one of my favorite and that's one of the first places I will be going during my trip back home to Louisiana next month!
Again, fellow Cajuns, if I missed anything, let me know 🙂
PS. For a super detailed look at having a crawfish boil, which includes catching the crawfish in your own traps (with pictures!) check out William Reed's webpage.