Thanksgiving in Cajun Country
I just returned from a 9-day vacation in Kaplan/Lafayette and I miss it already. There's no Thanksgiving like a Thanksgiving spent at home in Acadiana, tee. So much good food shared with so many good friends.. I'm going to get a second home there one day!
Mom (Maw-Maw) and I had a nervous blast on Good Morning Acadiana — we didn't mess up and mom was even a bit funny in some parts. I heard that I seemed really calm but I was actually terribly nervous. I was sick with a cold too so the combination left me awfully nauseated. Downing about 4 cups of sinfully delicious Mello Joy probably didn't help either 😉 Here are a few pictures from the show.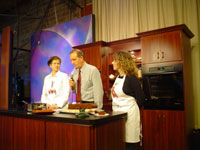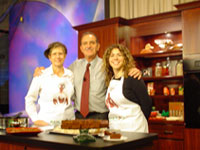 I'm going to send the GMA VHS tape to the RCR co-creator, Brandon, and have him encode it. Once he does, I'll put it on the web for everyone to enjoy. Thanks Tom and co. for making this such a great experience!