A Displaced Cajun finds authentic Cajun Food in Southern California
I moved to Southern California in 1997 and over the years I've searched high and low for food that tasted like home. I'll be honest, I was naive I didn't know that Cajun food was "ethnic." I thought everyone around America ate rice and gravy for supper 3 times a week. Boy was I surprised when I got here and couldn't find convenience stores anywhere nearby that served boudin or tasso. Thus began my quest to find good Cajun food in Southern California.
I had no idea good Cajun food would be so hard to come by. I ate at a few places that poorly represented the food I grew up with. I remember this one particular resturant called Chateau Orleans in San Diego. I should have known something was wrong when a place with "Orleans" in it claimed to be Cajun but I was desperate and tried it anyway. I have one word for that place: zidabre! Shame on them for passing spicy mush as Cajun food! The etouffee and jambalaya tasted nothing like their namesake and oddly enough they tasted alike. The gumbo was a thick tomato based sauce with peas or something crazy and the amazingly ungumbo-like sauce was sparingly placed on top of a bed of Uncle Ben's Instant rice. It was a disgrace. And I was so desperate, I tried fake Cajun resturant after fake Cajun resturant. I finally learned my lesson and vowed never to eat at any Cajun resturants ouside of Louisiana.
Fast forward 3 years and I'm living in Los Angeles. LA has really amazing food. From Ethiopian to Thai to Sushi, there are so many great resturants. I figured if any city had a good Cajun resturant, it would be this one.
One day after work, I was searching Google for information on Cajun heritage. As if by magic, I ended up at RaginCajun.com. I thought it was a cute site and then something caught my eye — the Ragin Cajun was in Hermosa Beach! Hermosa Beach is a beautiful beach town south of LAX airport — about 25 minutes from where I live in downtown Los Angeles. I was intrigued but suspicious so I took a look at their About Us section. It turns out that the Ragin Cajun Restaurant is owned by someone from Lafayette.. and not only that, he is a Domingue! Imagine that. A Domingue from Lafayette was serving up Cajun food just a few miles away from where I was sitting, browsing the Internet.
I called up my girlfriend and asked if she'd like to go on a culinary adventure with me. She agreed so I packed up my laptop and ran for the door.
We arrived about 45 minutes later (16 miles in 45 minutes. Traffic is a killer!) and I immediately noticed the mural outside of the Ragin Cajun. It was a classic Cajun restaurant mural complete with an alligator and a swamp. How cute. I snapped a few pictures and headed inside. I immediately felt at ease as soon as I saw the door. There was a Saints sticker right above the handle. Now you know nobody but a Cajun would sport a Saints sticker in public 😉
As I looked around, I saw a pirogue hanging above the bar and USL/Evangeline bread signs hanging on the wall. I was home! We sat down and were greeted by the friendly server. She gave us water in ..get this.. Ball Jars and gave us two menus. The menus were made out of brown paper bags. It was a lil kooky but I was loving it.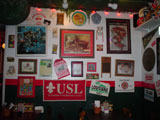 I perused through the menu and saw one of my favorite dishes — fried froglegs! MMmmmmM. As we tried to decide what we wanted to eat that night, I told my girlfriend Delia about how when I was a kid, my mom (an accountant) was sometimes paid in frog legs, crawfish, shrimp and duck. Those were the days.
We decided on 3 items – fried catfish, fried frog legs and broiled catfish smothered in crawfish etoufee. I could barely contain my excitement and thankfully our food arrived quickly. As soon as I took my first bite of frog leg, I knew I'd be back at the Ragin Cajun as a regular..bringing my friends so they can also enjoy this authentic Cajun experience. Even the sauce that was served with the frog legs was authentic — plain ketchup with a hint of horseradish, just the way I like it. No fancy shmancy sauce for me. Unfortunately, Delia, who didn't grow up eating frog was not such a fan of the legs. I was disappointed but disappointment was replaced with joy after I realized there'd be more for me 😉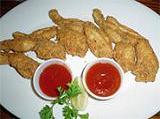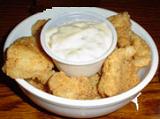 The fried catfish was excellent. The large filets of catfish were properly cleaned and didn't taste muddy at all. The etoufee and broiled catfish was also extremely enjoyable.
I figured this great experience called for a celebration and I celebrated with my favorite dessert — bread pudding in rum sauce. It did not disappoint and the pecans they added gave it a nice Cajun touch.
As the waitress brought us our check, I asked her if the owner was around "No, he's not in right now. Can I help you with something? I'm Cajun born and raised." I was so excited. I kinda thought she might be Cajun but then convinced myself it was just my excitement. I asked where she was from and she said Lafayette. Delia blurted out "She sounds exactly like you, Chris!" Yep, we do have accents and everyone thinks they are really endearing.


Our Cajun waitress
Come to find out, the server and I knew some of the same people from Lafayette. We had a grand time talking about Louisiana, moving out to Southern California and her alma matter, St. Thomas More High School. Of course we also talked about how much I enjoyed the food there. She then told me that the chefs were actually taught by Mr. Domingue's mother and that she still works there. Simply amazing. I can't believe I found such a gem in Southern California.
I plan on going to the Ragin Cajun again this week. I've got coworkers who simply should not live another day without such an exciting Cajun experience. Maybe I'll see you there!