Recipes by

Jane Hebert "A note from this recipe dated June 1998. I have used this recipe all my adult life." Ingredients 2 cups sugar 4 eggs 4 tsp baking powder 1 tsp soda 1 1/4 cup milk 1 cup margarine or butter 8 cups flour or as needed to make dough stiff nutmeg ...
Read more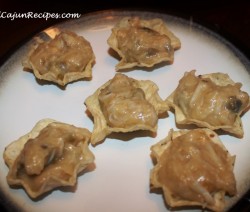 An easy classic dip great for parties and weddings. Ingredients 2 lbs Crab, Crawfish or Shrimp 1/2 stick butter 1 bunch celery, chopped 1-2 onions, chopped 3 (10 oz) cans golden mushroom soup 1 bell pepper, chopped Directions Step 1 Sauté onion, bell pepper and celery in the butter. Step ...
Read more This fudge is one of my children's favorite candies. Our family always made this fudge at holiday time. Ingredients 3 cups white sugar 1 cup homogenized milk 5 tbsp butter 1 quart whole pecans 1 tsp vanilla Directions Step 1 Butter a 9x9 baking pan or corning dish. Step 2 ...
Read more While MawMaw was going through her friend's recipe box, she found this recipe and made them. She invited that friend to dinner and served them. She was nice enough to say that I made them as good as she. We both laughed and everyone enjoyed them. Make these as part ...
Read more Ingredients 1 lb fresh sausage 2 (15 oz) cans carrots 1 onion, sliced 1/4 cup oil Directions Step 1 In a heavy pot, add oil and cook the sausage and onion on medium heat, waiting until the sausage browns. Once it is brown, add just enough water to cover the ...
Read more A great shortbread cookie to enjoy. Good for tea parties and a great treat to serve when sipping coffee with your friends. Ingredients 1 stick butter 2 eggs 2 tbsp or 3 vanilla 1 cup light brown sugar 1 yellow cake mix 1 (12 oz) bag chocolate chips Directions Step ...
Read more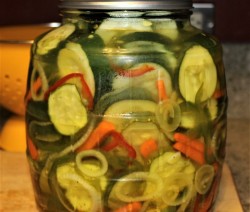 Ten days in the fridge to perfection. Pickles have been traced back thousands of years and are as popular as ever to this day. Serrano and jalapeno peppers may be added for a sweet and spicy taste. Ingredients 3 cups sugar 1/3 cup pickling salt 1 tsp celery seed 3 ...
Read more A popular recipe request that many website visitors ask MawMaw to find. This recipe is guaranteed to make your mouth water and your family happy. Ingredients 8 jumbo shrimp 1/4 cup fresh chives, chopped 1/4 cup garlic butter 1/4 pound crawfish tails, cooked 1/2 cup mushrooms, sliced 1/2 cup sour ...
Read more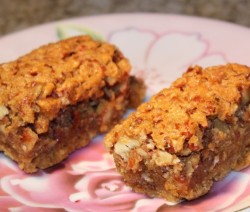 From Eagle Brand, a perfect recipe for holidays and family fun. A note in the recipe box had a date of September 28, 1986. Ingredients 2 cups flour, unsifted 1/4 cup packed brown sugar 1/2 cup butter (1 stick) 1 1/2 cup pecans, chopped 1 (14 oz) can Eagle Brand ...
Read more Mincemeat is one of those foods that you either love or hate. The biggest question has always been, exactly what is mincemeat? Mincemeat is defined as a mixture of finely chopped apples, raisins, spices, meat, and rum or brandy, used especially as a pie filling. Sounds like I might just ...
Read more