Recipes by

Elodie S. ...roast 3 cloves garlic finely chopped 1 tsp oregano 1 tsp basil 1 tsp thyme 1 tsp salt 1 tsp fresh ground black pepper 1 medium onion sliced 2 cups beef broth 1/2 cup red wine 1/2 cup water 1/3 cup flour 1/4 cup oil Directions Step 1 In a ...
Read more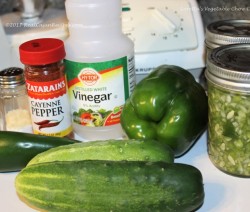 ...no (may be seeded) pimentos (optional) salt to taste cayenne red pepper to taste low acidic white vinegar to fill the pint jars Directions Step 1 Lightly grind the vegetables in a chopper. The mixture should be relish thickness. Step 2 Season with salt and pepper. Step 3 Pour and ...
Read more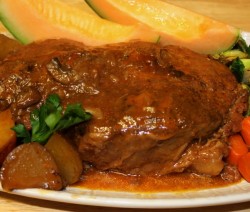 A dear friend of mine shared this recipe with me several years ago, and I have never cooked a roast any other way since. It is so tender it just falls apart. The original recipe called for 1/2 package Lipton Soup Mix – Maw-Maw likes the entire packet! Ingredients 1 ...
Read more ...Step 2 Sauté the crawfish tails in a small amount of butter and add to the crab-meat. Step 3 Add in the half of the shredded cheese (reserve some for topping) and the cream of mushroom, and mix well. Step 4 Lightly grease casserole dish and pour the mixture into ...
Read more ...he heart of Acadiana swamp country. Seafood gumbo cooking at it's finest. Lump bayou crab meat and bayou hot shrimp with the fixins of Cajun vegetables and the secret of Brookie's bayou juice. Ingredients 72 ounces shucked jumbo blue crab meat 6 pounds peeled & de-veined shrimp 3 pounds catfish ...
Read more This is so good that it'll make a hound break a log chain to get to it. One day at work I asked if anyone had any unusual recipes. A young lady, Jordan Raymer, asked if I had ever had Chocolate Gravy and Biscuits. That one got my attention. Ingredients ...
Read more Delicious pork roast prepared on a grill. This recipe was given to me by my Cajun cousin, Sally Sonnier Hand. It may have originated with her dad, Uncle Otis Sonnier. Wherever it came from it is a delicious Cajun way to cook a pork roast and I think it will ...
Read more ...pe contributor writes – "My mother made this fruit salad at Thanksgiving and Christmas. Its always better the next day! " Ingredients 2 cans (15 oz) fruit cocktail 1 small bag miniature marshmallows 16 ounces sour cream 1/2 small jar (or more) maraschino cherries - optional Directions Step 1 Drain ...
Read more ...er made this pecan pie at Thanksgiving and Christmas." Such a traditional Cajun favorite. Ingredients 2/3 cup sugar 3 eggs 2/3 cup Karo syrup 1 tsp vanilla 2 cups pecans (halves or chopped) 1 unbaked pie shell Directions Step 1 Mix sugar, eggs and Karo thoroughly. Stir in vanilla and ...
Read more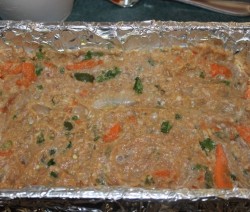 ...ices, monosodium glutamate, dehydrated garlic and onion, sugar, and papain. Ingredients 1 pound ground beef 1 pound ground venison 1 cup bread crumbs 1 egg 1/2 tsp crab boil 1/4 tsp liquid smoke 1/4 tsp salt 1/2 tsp Everglades seasoning 1/4 tsp cayenne pepper 1/4 tsp Cajun seasoning 1/4 tsp ...
Read more My Grandmother, Mabel Primeaux, used to make this simple dish. It is delicious. Mix it with vanilla ice cream when you serve yourself – Heavenly! Ingredients 1 can fruit cocktail 1 banana sliced 1 jar maraschino cherries 1 apple cut in small pieces fresh strawberries 1 can condensed milk Directions ...
Read more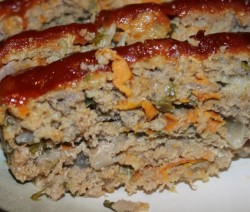 ...f pork sausage). You can use any single ground meat or mix pork with beef or combine venison with pork. Any combination sure to please the hungry Cajuns. Ingredients 1 pound ground beef 1/2 cup milk or evaporated milk 3 slices soft bread torn into tiny pieces salt and pepper ...
Read more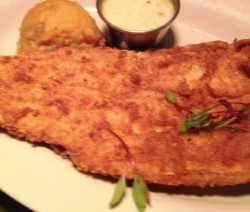 ...emade fried battered recipe for your choice of food! The homemade fish fry is also great for catfish, eggplants, zucchini or any foods requiring a light batter. Use the egg batter or simply wet the item with water, shake excess water and roll in fish fry mixture. Ingredients 2 eggs ...
Read more Summer squash has a soft edible shell or skin and winter squash has a hard shell or skin. Either can be used in this dish! Ingredients 2 cups squash 5 to 6 squash boiled and mashed 1 block butter (8 tablespoons) 4 egg yolks 1 cup flour or more if ...
Read more