Recipes by

Elodie S.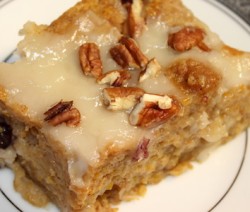 ...r almond, lemon, rum, if you prefer) 1 (8 oz) can pineapple crushed or chunks juice and all (or another filling if you prefer) 1/2 cup raisins (optional) 1 (12 oz) can evaporated milk 1 cup chopped pecans or walnuts Directions Step 1 Use day old bread, in fact, the ...
Read more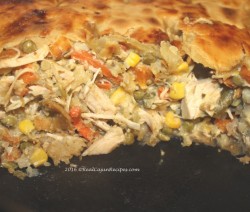 ...ne onion and shallots. Remove from heat and place on plates to cool. Strain broth into bowl, cover and refrigerate to be used in the roux. Step 2 Remove skin from chickens. Cut meat into small pieces. You may use knife or scissors. After cutting cover and place in refrigerator. ...
Read more ...bowl, combine the cornstarch, flour, baking powder, salt, pepper, cayenne and the optional garlic powder. Stir in the water and the egg. Step 2 Heat about 1/2 of oil over medium heat to 375 degrees. Step 3 Dip vegetables into batter. Carefully add the veggies to the hot oil a ...
Read more The fish are difficult to dress, but the meat cooks up white and flaky, and tastes delicious. Like any other flavorful white-meat fish, gar can be baked, stewed, fried, grilled or broiled. Garfish have a low to medium fat content and the flavor is sweet to mild. They are usually ...
Read more ...or me all the time. Now I make it for my family, friends, and many other people and they love it!!! This recipe is doubled. You may split all the ingredients in half for a smaller portion. Ingredients 18 slices of bread 2 cups sugar 2 13 oz cans evaporated ...
Read more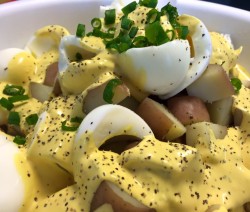 ...olks with the vinegar, mustard, pepper, salt and mayonnaise. Set aside. Step 3 Chop the egg white and cube the potatoes. Add the celery, parsley, scallions (onion top) and sweet onions if using. Note you can modify more or less if needed on the celery and onions or leave off ...
Read more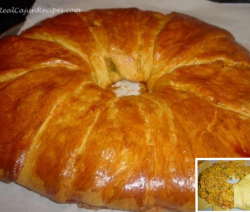 ...ive the appearance of a tunnel. Take your pastry and fold them over the middle; you will have to stretch the pastry so it can cover the ring well or use scraps to fill the holes (see photo). Step 7 Beat an egg and brush the egg over the ring. ...
Read more ...nts 2 cups flour 1 cups sugar 1 tsp baking soda 1/2 cup cooking oil 1 cup Steen's Cane Syrup 1 egg beaten 1 tsp vanilla Your choice of spice: cinnamon, ginger, nutmeg or all three 1/2 cup pecans and or raisins (optional) 1 cup boiling water Directions Step 1 ...
Read more ...onion, celery, & bell pepper 1 green onion chopped 1 tbsp parsley chopped fine 1 egg 1/2 cup evaporated milk 1/2 tsp Tony's or Cajun seasoning 3 sleeves of whole wheat Ritz crackers grounded Directions Step 1 In a medium glass bowl, drain, flake and combine all seafood. Step 2 ...
Read more ...Try a fun punch for the holidays. Ingredients 6 cans chilled Sprite or 7-up 1 46 oz can of pineapple juice 2 cans frozen orange juice concentrate 1 tsp peppermint extract Directions Step 1 Mix well the chilled pineapple juice, thawed orange juice concentrate and peppermint. Pour the beverage drinks, ...
Read more This oyster rice dressing is a holiday favorite, created by my grandmother Folse, however, after her death, it was passed on to my mother and has always been a holiday tradition. Ingredients 3 cups cooked long grain rice 1/2 gallon oysters uncooked and shucked 1 pound ground beef 1 pound ...
Read more ...p chopped red, yellow, and green bell peppers 1/2 cup parsley 1/2 cup chopped onions 1 can Mexican Rotel 1 can cream of shrimp 1 cup half and half 1 cup whole style corn 1 can black beans optional 6 cups cooked rice Directions Step 1 In a large saucepan ...
Read more