Bert's Bread Pudding
2004-05-29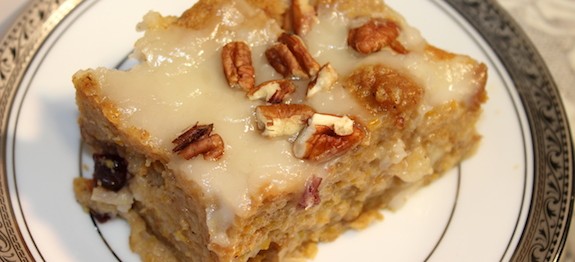 Prep Time :

30m

Cook Time :

40m

Ready In :

1:10 h
Bread pudding is very customizable. For instance, you can pineapple, raisins, nuts, vanilla, cinnamon, or none of the above. The dish lends itself to its creator.
Ingredients
1 loaf of bread 22 slices or small French Bread
4 eggs (2 whole eggs and 2 egg yolks)
1 cup granulated white sugar
1/2 stick melted butter
1 tsp nutmeg
2 tsp cinnamon
1 tsp vanilla extract (or your almond, lemon, rum, if you prefer)
1 (8 oz) can pineapple crushed or chunks juice and all (or another filling if you prefer)
1/2 cup raisins (optional)
1 (12 oz) can evaporated milk
1 cup chopped pecans or walnuts
Directions
Step 1
Use day old bread, in fact, the older the better. In a large bowl, break the bread in small chunks.
Step 2
In a separate bowl, combine the eggs, sugar, melted margarine, nutmeg, cinnamon, vanilla, milk, pineapple and raisins.
Step 3
Pour the milk mixture over the bread. Add more liquid if your bread is not totally immersed in the custard mix. Let the liquid and bread sit for a while so it can be a good mixture and the bread is wet and soaked.
Step 4
Butter a 9x13 pan, and pour the mixture in.
Step 5
Chop the nuts (pecans, walnuts, etc.) and drop on top of bread pudding mixture. Just pop into the oven. Bake in 350 oven for about 40 minutes. Insert knife to see if custard is formed.
Step 6
You can eat as such or top with meringue (needs to be done when baking), orange glaze, or rum sauce.