Recipes by

Elodie S. This is a seafood casserole with cheese in it. My family loves it and asks me to make it all the time. Ingredients 1 onion chopped 1 bell pepper chopped 1 stalk celery green onion scallions chopped 1 pound crab meat 1 pound shrimp 1 pound crawfish 2 cups cooked ...
Read more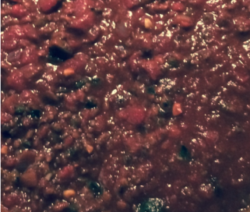 ...t it do it's thing for 10 minutes at least, stirring frequently. Step 4 Everything else goes in! Be sure to include all the juices from the diced-tomato cans. Step 5 Let it come together at a high simmer for about an hour, less if you can't wait. Grab a ...
Read more ...Great drink for Christmas, New Year or any festive party. Ingredients equal amounts of Champagne and Ginger Ale orange sherbet 1 small jar of cherries Directions Step 1 Combine equal amounts of champagne and ginger ale. Add scoops of the orange sherbet to taste and a small jar of cherries. ...
Read more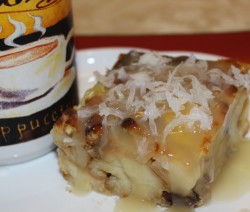 As bread got older or was not quite fresh, rather than throw it away, the classic dish of bread pudding was created. Several versions have evolved but French Bread or homemade bread is the more popular bread choice for the pudding. Ingredients 1 loaf French Bread 2 cups milk 3 ...
Read more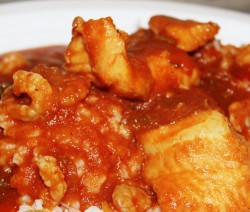 As fishermen, our freezer was always stocked with redfish and catfish. My mother, Meredith would make this Cajun dish that we enjoyed as children. I now make it for my children; it is one of the favorite meals. The Cajun version of courtbouillon is generally flavored differently than some because ...
Read more ...coconut and reserve syrup to add to cake mix. Preheat oven and prepare pan(s) as directed on box. Prepare cake mix according to package directions and add the reserved coconut syrup. Bake as directed. Cool completely. If necessary, after cooling set in freezer for about 10-15 minutes. Step 2 In ...
Read more ...t 1/3 cup sugar pinch of salt 1 stick sweet butter 3 tbsp flour 1 small pkg Gold Fish chocolate cookies Directions Step 1 Preheat oven to 400 degrees F. Step 2 Make the crust first: Place all the dry ingredients in food processor three minutes. Add the melted sweet ...
Read more Crawfish Étouffée is one of our favorite Cajun classics, but many newcomers find the dish tricky. This recipe is sure to deliver delicious results in a short amount of time. Ingredients 1 lbs crawfish or shrimp tails, shelled and cleaned 1 onion, chopped 1 bell pepper, chopped 1 can cream ...
Read more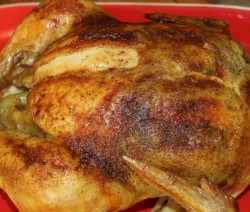 ...pat dry with paper towels. In a small bowl add the oil and combine with the Season All, pepper, onion and garlic powder. Step 2 Slide your hand under the skin and carefully lift the skin gently to avoid tearing. If needed scissors could be used to separate the membrane. ...
Read more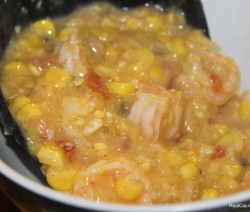 ...(tomato with green chilies) 1 can cream of mushroom 1 can cream of shrimp 2 medium onions, chopped 2 ribs celery chopped 1 bell pepper chopped 1 pod garlic, chopped fine 1 tbsp sugar 1 tsp Tabasco sauce 2 tsp salt (more or less to taste) 1 teaspoon black pepper ...
Read more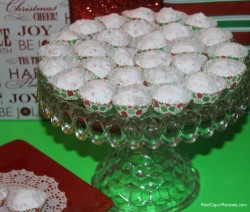 ...ends and family. A great party snack.   Ingredients 1 stick butter (8 tablespoons) 2 tablespoon granulated sugar 1 teaspoon vanilla 1 cup pecans chopped 1 cup sifted all purpose flour powdered sugar for rolling Directions Step 1 Cream together the butter and granulated sugar;add the vanilla. Step 2 Combine ...
Read more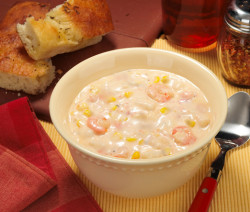 ...hrimp, peeled & deveined 1 (8 oz) package of cream cheese, cubed 1 stick of butter 2 (10 1/2 oz) cans of cream of potato soup 2 (16 oz) cans of corn, undrained 1 cup of onion, chopped salt and pepper to taste Tony's Chachere's seasoning, optional (to taste) Directions ...
Read more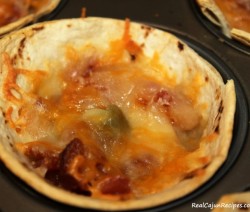 ...making a cup with the tortilla shell. Step 2 Season shrimp. Step 3 Cut the butter into 12 pats; place one butter pat into each of the cups. Step 4 Follow with shrimp, cheddar cheese, cooked bacon, jalapeno slice, finish layering with pepper jack cheese. Step 5 Bake in a ...
Read more ...aves Pinch of thyme 1/4 cups chopped celery leaves 2 cloves garlic, minced 8oz. can of tomato sauce 1/2 cup flour 2 quarts water 2 pounds crab meat 1/2 cup chopped parsley 1-2 lemons, sliced Salt and pepper to taste Directions Step 1 Melt butter in a heavy pot. Add ...
Read more