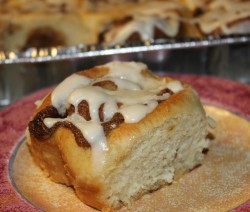 ...a double boiler or over very low heat. Cool to lukewarm. Step 2 Add the crumbled yeast, sugar, water and egg to milk. Beat with a beater until beated (Whew!). Combine well. Step 3 Add the flour, shortening and salt to the yeast mixture. Stir until blended. Step 4 Place ...
Read more ...epper, chopped 1 bunch green onions, chopped 1/2 stick margarine or butter 1 (10 oz) can cream of onion 1 (10 oz) can cream of celery 2 (4 oz) cans shrimp 1 (6 oz) can crabmeat 1/2 tsp black pepper 1/4 tsp cayenne Directions Step 1 Wash rice well. Step ...
Read more ...yers making four thin layers. Step 2 Combine the sugar, sour cream and coconut, blending well. Chill this mixture. Step 3 After it's chilled, spread the coconut and sour cream mixture (except for one cup, reserved for the frosting) between the layers. Step 4 Combine the reserved coconut and sour ...
Read more ...light brown sugar 1 cup granulated sugar 1 cup golden raisins 1/2 cup finely crystallized ginger Directions Step 1 Place and combine all ingredients in a 4 quart microwave safe casserole dish. Step 2 Cook, uncovered on the High setting until thickened; about 45 minutes. Step 3 Cool slightly, seal ...
Read more ...emonade 1 large can pineapple juice 2 cups water 2 quarts ginger ale 1 quart plain soda water 1/2 gallon lime sherbet 1/2 gallon pineapple sherbet Directions Step 1 Mix fruit juice and water; add ginger ale, then the soda water. Chill or freeze all ingredients until slushy. Take a ...
Read more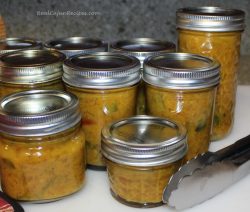 ...r and remaining ingredients in a large pot and bring to a boil until the sugar is completely dissolved. Add the vegetables to the vinegar mixture; simmering for 10 minutes. Step 3 Fill the canning jar 1/2 inch from the top and put on the cap. Process in a boiling ...
Read more ...ch oven (Magnalite or black iron). Remove chicken from pan. Step 2 Cook onion, onion tops, and green pepper until golden brown in remaining oil. Remove, leaving the oil. Step 3 Add flour, cook slowly until brown, stirring constantly. Step 4 Add tomato sauce, mashed Rotel tomatoes, bay leaves, garlic, ...
Read more ...place in a pot of water, with about 6 inches of water above the potatoes. Boil until tender. Step 3 Once boiled, adjust water accordingly for a soup. When the potatoes are tender, pour in corn and cheese. Add seasonings to taste. Step 4 Mix until cheese is melted. Soup ...
Read more ...heavy syrup sold in Louisiana. Ingredients 1 box white cake mix 1 can Ancel's coconut 8 ounces sour cream 8 ounces cream cheese 1 stick butter 1 pound powdered sugar 1 tsp vanilla 1 cup flaked coconut Enough milk to make frosting easy to spread Directions Step 1 Bake cake ...
Read more ...hand mix the ingredients. Spread over crust and bake at 350 degrees for 20 minutes. Set aside to cool. Step 3 Combine the pudding mix and milk and beat one minute at low speed. Add the pumpkin, cinnamon, and nutmeg. Mix and stir one cup Cool Whip into the pumpkin ...
Read more ...for a baby or wedding gift shower. Ingredients 1/2 gallon lime and pineapple sherbet 1 can (48 oz) 7-up 1 pound can crushed pineapple 1 box lemon Jell-O 1 box lime Jell-O 3 large bottles ginger ale 1 No 2 can chunk pineapple Directions Step 1 Freeze the sherbet in ...
Read more ...cream of shrimp 1/2 cup water 1/2 cup green onion tops (scallions) 1/2 cup parsley salt and pepper or Cajun seasoning of choice to taste 3 cups cooked rice or cornbread Directions Step 1 Sauté onions and pepper in margarine. Step 2 Season shrimp to taste with salt and black ...
Read more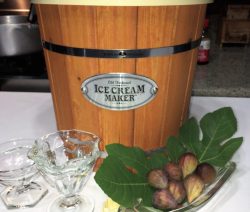 ...xer until very frothy Step 2 Add the sugar and mix well Step 3 Gradually add the milk and the vanilla and beat well. Step 4 Add the figs and mix well Step 5 Pour mixture into a 1 gallon container and follow ice cream maker instructions Step 6 To ...
Read more