Recipes by

Suzanne LeMaire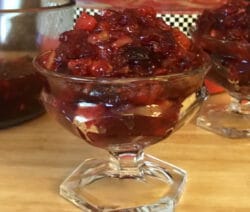 A popular holiday or Sunday dish. Perfect for Thanksgiving turkey, beef roast and dessert. Ingredients 1 can (8 oz )crushed pineapple, drained but reserving juice 1/2 cup Ocean Spray cranberry juice cocktail 2 tbsp lemon juice 1 (3 oz) package raspberry gelatin 1 (16 oz) can Ocean Spray whole berry ...
Read more Ingredients 1 head lettuce, broken 1 bunch raw spinach 3/4 pound fried bacon, broken in crumbs 8 eggs, hard boiled 1 package frozen English peas 1 package Hidden Valley Ranch 1 cup sour cream 1 cup mayonnaise Directions Step 1 Boil the eggs. (See our site on how to boil ...
Read more Easy dip for parties or snacks. Ingredients 1 package spinach, chopped 1 cup mayonnaise 1 cup parmesan cheese 2 tbsp jalapeños, seeded and chopped fine 1 jar artichokes (small) or small can choice of dip crackers Directions Step 1 Defrost spinach if necessary and squeeze out excess water. Mix ingredients ...
Read more Here are 4 easy and quick recipes for vegetables or fruits. Let's party. Ingredients 1 package Cream Cheese 1 can crushed pineapple 1 cup mayonnaise 1 package ranch dressing dip 1 package cream cheese marshmallow cream 1 cup chocolate sauce Directions Step 1 Combine ingredients as listed for each individual ...
Read more Use this dip for any party or family gathering. Ingredients 8 oz cream cheese 1 stick butter 1 lbs crabmeat 1 small onion chopped fine Tabasco, garlic powder and red pepper to taste Directions Step 1 Combine cream cheese and butter and melt in the top of of a double ...
Read more Great dip for parties, weddings or family gatherings. Ingredients 8 lbs crawfish tails, peeled and chopped 1 can cream of mushroom 1 stick butter 1 medium onion, chopped fine 2 stalks celery, chopped fine 1 tbsp flour 1/4 cup cold water 1/2 tsp garlic Directions Step 1 Sauté vegetables in ...
Read more A classic Sunday dish. Ingredients 3 - 4 pound hen oil for browning 2 large onions 4 medium garlic cloves, chopped fine 1 large bell pepper, chopped 2 - 3 bay leaves 1 can tomato paste 1 tsp sugar 1 large can of mushroom and juice 1 small jar of ...
Read more A great Christmas dish. Great for a party or gift giving. Ingredients 16 oz cream cheese 2 cups Cracker Barrel or sharp natural cheddar 1 package jalapeño cheese spread 1/2 tsp garlic powder 1 tsp lemon juice 1/2 tsp red pepper 3 cups pecans, chopped fine Directions Step 1 All ...
Read more