Recipes by

Mawmaw Lilly LeMaire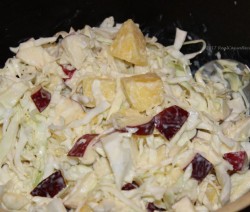 ...Simple, Good and Fast to prepare.   Ingredients 1 small head of cabbage 1 large apple 2 cups mayonnaise 1 tsp sugar 1 cup pineapple chunks (optional) Directions Step 1 Finely shred the cabbage. Step 2 Slice and dice the apples into small pieces. Step 3 Mix all ingredients together, ...
Read more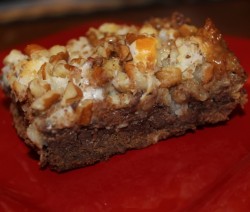 This was one of my grandson Colby's favorite cookies at Christmas. Now he makes his Mom do them. Ingredients 1/2 cup butter or margarine 1 package Betty Crocker German Chocolate Cake Mix 3 cups miniature marshmallows 1 (6 oz) package semi-sweet chocolate chips or butterscotch 1 1/2 cups flaked coconut ...
Read more Mawmaw always cooked these at Christmas time. Ask Chad, Colby and Chrissy what they think of these. Ingredients 2 3/4 cups flour 2 1/2 tbsp baking powder 1/2 tbsp salt 2/3 cup shortening 1 lb brown sugar 3 eggs 1 cup pecans, chopped 1 (6 oz) package chocolate chips Directions ...
Read more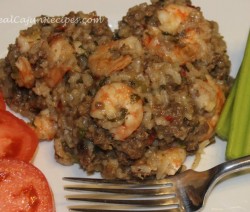 This is one of the best oven recipes for rice dressing. It's a foolproof dish with Cajun flavor. Ingredients 1 lb to 1 1/2 lb ground beef (chuck preferred) 1 (10 oz) can cream of mushroom soup - undiluted 1 (101/2 oz) can French onion soup 1 (6 oz) can ...
Read more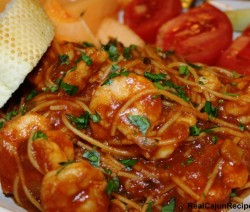 The unique flavor of this dish develops when the spaghetti is cooked in the pot with the tomato and roux based sauce. Spaghetti is the choice pasta but the dish may be prepared with a pasta of your choice. Ingredients 1/2 cup prepared roux or scratch roux (1 cup flour ...
Read more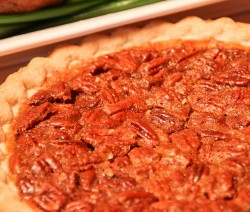 Pecans are classified by the color of their skin – Light, Light Amber, Dark and Dark Amber. Work magic with pecans by baking the Perfect Pecan Pie. Pecan Pie for a Cajun is as classic a dish as Crawfish. Always a popular item for holiday baking. Ingredients 3/4 cup pecan ...
Read more Ingredients 3 cups sugar 3/4 cup margarine 2/3 cup carnation milk 12 ounces semi-sweet chocolate morsels 1 (7 ounce) jar Kraft Marshmallow crème 1 cup pecans chopped 1 tsp vanilla Directions Step 1 Combine sugar, margarine, and milk in a heavy saucepan. Bring to a rolling boil, stirring constantly. Step ...
Read more This recipe has been in the family a long time. One of the best icings for any type of cake or brownies, but really great for a German Chocolate Cake or the groom's cake at a wedding. Ingredients 1 (12 oz) can evaporated milk 1 cup sugar 3 egg yolks ...
Read more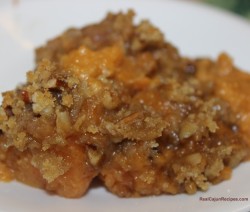 One of the best tasting sweet potatoes casseroles. A side dish so good, it could be dessert. Ingredients 3 cups cooked and mashed sweet potatoes 1/2 tsp salt 1 tsp vanilla 1/2 stick butter 2 eggs 1 cup granulated sugar 1/2 cup milk (regular or evaporated) 1 cup brown sugar ...
Read more A quick, easy and delightful scratch cake. Called a 2×2 because all ingredients are an increment of the number 2. Fresh pineapple can be substituted for canned pineapple (and vice versa) in equal measure. Place 1 cup of pineapple chunks in a blender and put it on "chop" setting for ...
Read more ...Ingredients 1 (21 oz) can Comstock Peach Pie Filling 1 (16 oz) package frozen strawberries, thawed 1 (15 oz) can manderin orange slices, drained 1 (20 oz) can pineapple chunks, drained 3 bananas, sliced Directions Step 1 Combine all ingredients and serve. Chilling enhances the flavor. Substitutions: Use canned cherries, ...
Read more