Recipes by

Bill Martin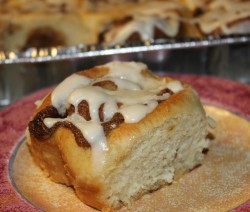 Great Fresh Cooked Rolls. This recipe shows how to prepare the basic refrigerator rolls. Then using the same basic recipe to prepare cinnamon rolls. Ingredients 1 cup milk 1 (2 oz) cake compressed yeast 1/4 to 1/2 cup sugar 1 cup lukewarm water 1 egg 3 1/2 cups sifted flour ...
Read more Sometimes you just don't have fresh or frozen shrimp on hand and are hungry for a seafood casserole. This will work for you using canned shrimp and crabmeat. Ingredients 2 cups rice 1/2 cup water 1 bell pepper, chopped 1 bunch green onions, chopped 1/2 stick margarine or butter 1 ...
Read more After this cake is baked you seal it in an airtight container and refrigerate it for three days before serving. Some things are worth waiting for. You will have everyone asking, "Is it cake yet?" This recipe was handed down from a cook named Linda Roy. Ingredients 1 package butter ...
Read more This bright, spicy condiment is great alongside fowl or simply spread atop cream cheese on a cracker. Serve at your next party or family gathering. Ingredients 4 large red peppers, cut into 1/2 inch dice 2 jalapeno, seeded and finely chopped 4 cloves garlic, finely minced 1 1/4 cup cider ...
Read more My sister prepared this punch for my son's graduation party and it was a hit. It was the first dish I ran out of. It is a basic Lemon Lime Punch with Sherbet but the green color makes it reminiscent of the swamp waters. You could add purple food color ...
Read more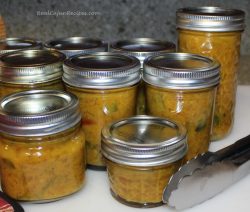 Maw-Maw likes to call this one Hot Dog Relish. Many refer to chow-chow as a catch-all term for any vegetable based relish. Chow-chow is meant to be a condiment and is usually put on top of or alongside the food. This dish is meant to enhance the dish you are ...
Read more "While I was growing up my dad, Dan Robicheaux, made this "sauce" when we'd camp, cooking over a camp stove. In 1996 I won 1st Prize in the SW Louisiana State Fair Sauce Piquant cook-off with this recipe" – Angela Propst in memory of her Dad, Dan Robicheaux. Ingredients 2 ...
Read more Kasie writes, "This soup is a winner with my husband when he is sick or if it's cold out. Rich, creamy soup that warms the soul. Yummy!" Ingredients 6 to 8 potatoes 1 package shredded cheese, any flavor 2 cans corn, drained 1 package fresh sausage, your choice 2 packages ...
Read more in loving memory of Laura Marks Carriere by Shannon Smith Piekos A delicious (traditional) coconut cake with sour cream and coconut filling topped with a cream cheese coconut frosting. As this cake is very rich, the only side recommended is a lot of love! This recipe uses Ancel's coconut, which ...
Read more Remember that you can use sweet potatoes whenever the recipe calls for pumpkin. Ingredients 1 3/4 cup graham cracker crumbs 3 tbsp sugar 1 stick butter, melted 1 (8 oz) cream cheese, softened to room temperature 2 eggs beaten 2/3 cup sugar 2 packages (3 3/4 oz) instant French vanilla ...
Read more Great for a baby or wedding gift shower. Ingredients 1/2 gallon lime and pineapple sherbet 1 can (48 oz) 7-up 1 pound can crushed pineapple 1 box lemon Jell-O 1 box lime Jell-O 3 large bottles ginger ale 1 No 2 can chunk pineapple Directions Step 1 Freeze the sherbet ...
Read more We know Mawmaw and Grandma did not have the luxury of cream soups but that does not mean a Cajun can't use them. Especially since Mawmaw and Grandma now use them too! Ingredients 1 cup margarine or butter 1 cup onion chopped 1 cup bell pepper chopped 5 cups raw ...
Read more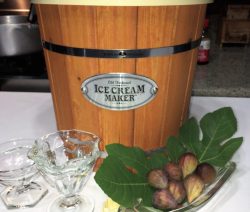 Figs are among the oldest fruits. Figs are wonderful straight off the tree And what's really nice you can also eat the peel. Many Cajun love making fig preserves – Great with bread, corn bread, or over cream cheese as an appetizer. Another sweet use is fig ice cream – ...
Read more