Recipes with Photos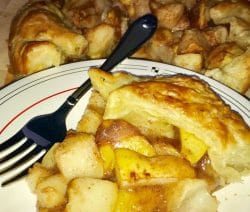 Puff pastry is a flaky light pastry made from a laminated dough composed of dough and butter or other solid fat. The butter is put inside the dough (or vice versa), and the dough is repeatedly folded and rolled out before baking. similar to making a croissant – Wikipedia  Using your ...
Read more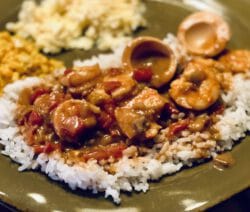 Shrimp and Egg Stew is a popular Louisiana dish, enjoyed by many.  It's not only delicious, but it's easy to make. Ingredients4 tbsp dark roux1 cup onion, chopped3 stalks of celery, chopped1 tbsp tomato paste 1 can of Rotel tomatoes1 can of cream of mushroom soup2-3 cups of water3-4 eggs, ...
Read more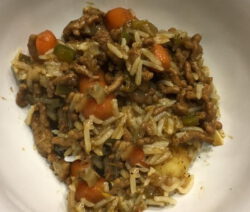 This recipe is very similar to meatball stew, but doesn't require you to make meatballs. It also has a different texture that I prefer. You can get amazing hog lard roux at The Mowata Store in Mowata, Louisiana, near Eunice. Ingredients1/2 heaping tsp Chicken Better than Bouillon1/2 heaping tsp Beef ...
Read more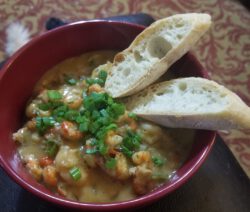 Jason's adaptation on this Crawfish Étouffée comes from a combination of a few different recipes.  This recipe makes enough to feed a large group of 15-20 people, so it's perfect for a party of any type.  To make this recipe faster, it calls for 1 1/2 containers of Guidry's Cajun ...
Read more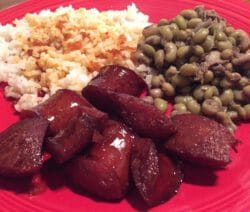 Interestingly the gravy is not sweet; caramelizing burns out the sweetness. Ingredients2 12 ounce packages of sausage, cut up1/2 cup onions, chopped1 tsp minced garlic3/4 cup vegetable oil3/4 cup sugar10 oz water2 cups cooked riceDirectionsStep 1Cover the bottom of a pot with about 1/8" depth of vegetable oil, pour 3/4 ...
Read more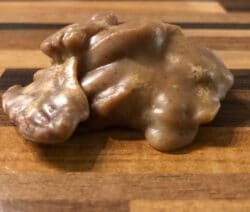 Eggnog is one of our favorite holiday drinks and it makes an INCREDIBLE addition to these unique pralines we invented just for the holiday season 🎅🏼🤶🏼🎄🎁 Ingredients2 cups pecans1.5 cups white sugar2/3 cup light brown sugar1/2 cup eggnog6 tbsp butter1 tsp vanilla extract Generous pinch of salt1/2 tsp ground cinnamon ...
Read more