Recipes with Photos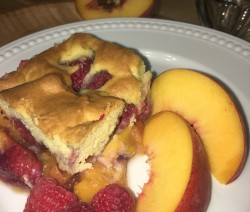 Fresh Peaches and Raspberries make up the base for this dessert, The topping is more like cake than biscuit. Ingredients6 medium ripe peaches2 cups fresh raspberries1/4 cup sugar1 cup all-purpose flour1 teaspoon baking soda1/4 teaspoon salt4 tablespoons butter softened1 1/3 cup sugar1 egg1/4 cup buttermilkDirectionsStep 1Sliced peaches and spread evenly ...
Read more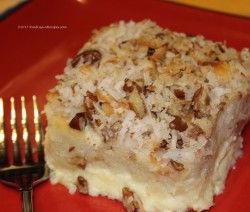 The first time I remember seeing this recipe was in a old Pillsbury Cook Off Pamphlet cookbook. The recipe was submitted by an expectant mother and she won the Cook Off that year. Recipe can easily be halved…Let your bread go stale just to make this!!   This is one of ...
Read more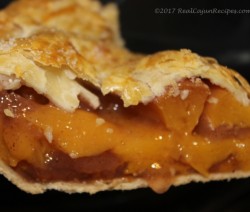 Pie consistency is perfect; Paw-Paw dubbed it the "perfect peach pie". Firm peaches are recommended Ingredients2 - 9 inch pastry pie crust egg white with 2 teaspoon water2 1/2 - 3 pounds medium size firm peaches sliced - 5 1/2 cupsJuice of one lemon or 3 tablespoons ...
Read more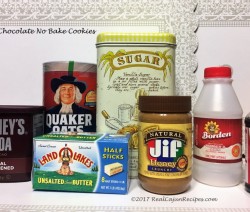 A great recipe suggestion to cook for friends and neighbors impacted by the floods when no there are no facilities to cook with. #ComfortFood. Also great for young cooks and tea parties. Ingredients2 cups sugar1/2 cup whole milk1 stick butter - 8 tbsp4 tbsp cocoa1/2 cup peanut butter3 tsp vanilla3 ...
Read more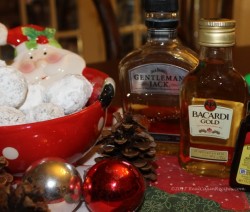 These bourbon rum balls have "Holidays and Let's get Together" written all over them. Ingredients2 cups finely ground gingersnap cookies2 cups finely ground graham crackers1 1/2 cups powdered sugar divided in half1 cup ground pecans1 cup flaked coconut1/2 cup raisins1 tablespoon grated orange rind3 tablespoon honey or corn syrup1/2 teaspoon ...
Read more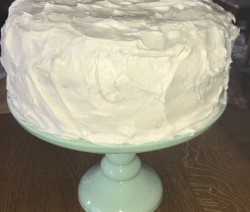 This was a bakery recipe that was shared – perfect for wedding cakes. Baker make 2 recipes for a wedding cake (3 tier); cut this in half for a regular size cake. If you make the whole recipe, you can refrigerate the leftover. You will be pleasantly surprised on how ...
Read more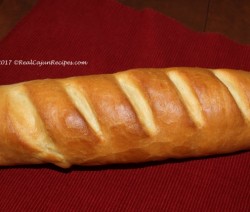 Simple  Ingredients  – Super Taste – So worth the effort Recipe adapted from Memorial Hospital Volunteer cookbook Ingredients1 cup warm water1 tablespoon shortening1 tablespoon sugar1 1/2 teaspoon salt 1 package Fleischmanns Rapid Rise yeast1/2 cup warm water 4 cups flour DirectionsStep 1Melt shortening in microwave. Dissolve sugar and salt in ...
Read more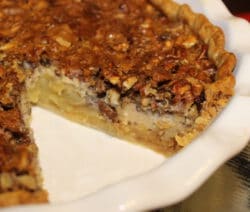 The mystery ingredient – cream cheese – many will seldom guess the surprise ingredient Ingredients1 - 9 inch pie crustCream Cheese Layer 1 8 ounce package cream cheese softened1 egg1 teaspoon vanilla1/3 cup sugar1/4 teaspoon saltSyrup Mixture3 eggs1/4 cup sugar1 cup Karo or light corn syrup1 teaspoon vanillaPecans1 1/2 cup ...
Read more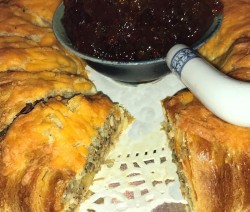 Great party food – Super Mardi Gras Ball dish.Paired with Pepper Jelly. this recipe is doubled packed with flavor – Great Party Food – great for Mardi Gras and family gatherings Ingredients2 pounds boudin2 packages 8 oz Crescent Rolls4 slices crumbled bacon1 to 2 chopped jalepenos1 eggShredded cheddar cheese for ...
Read more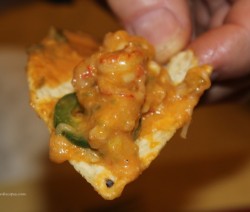 A local restaurant that has since closed made crawfish nachos that my daughter loved. Baby girl wanted crawfish nachos, Momma comes up with this recipe. Any of your favorite cheeses can be used. Ingredients1 1/2 to 2 pounds crawfish tails1 small onion, chopped fine2 short celery ribs chopped fine1 small bell pepper chopped ...
Read more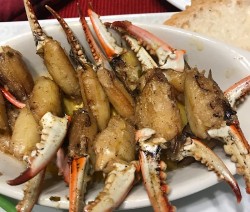 Definitely a delicious treat  – Blue Point Crab Fingers. Mostly used as an appetizer, it is generally served with a Shrimp Remoulade Sauce, crab salad or deep fried and served with a seafood cocktail sauce. See our Remoulade Sauce recipe –  Shrimp Remoulade Sauce Ingredients1 stick butter (8 tablespoon)2 -3 garlic pods, ...
Read more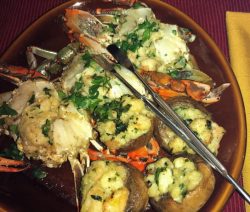 A nice alternative to boiling crabs.- stuffing can be used to stuff mushrooms and to make shrimp egg rolls Ingredients12 crabs cleaned and seasoned with salt and pepper or your favorite Cajun seasoning1 cup chopped onions1 pound chopped shrimp8 tbsp butter1 tsp Cajun seasoning to taste1/4 cup Parmesan cheeseOne slice ...
Read more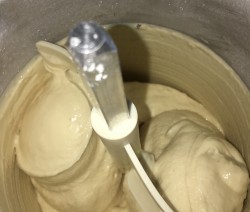 Perfect for Fourth of July Celebration. Did you know –  in the process is that the machine actually churns air into the ice cream base as it freezes the mixture. After the machine has stopped either serve the ice cream as soft serve or place in the freezer to completely ...
Read more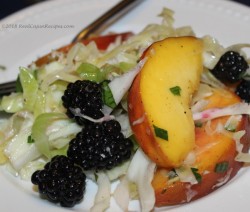 The blend of three popular Cajun likes -Cabbage, Peaches and Blueberries or Blackberries.- in a wonderful tasting Coleslaw. Adapted from  Better Homes and Garden Ingredients1/4 cup white distilled vinegar or white wine vinegar 1/4 cup olive oil1 tblsp green onion diced small1 tsp sugar or Splenda salt and bread lack ...
Read more