Recipes with Photos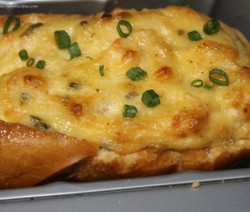 "Shrimp boats is a-comin' – there's dancin' tonight!" Shrimp Boats are a cooking we'll save you a bite – Enjoy~ Ingredients1 pound shrimp, crab meat or crawfish3/4 stick butter1/2 cup onions chopped fine1 teaspoon garlic powder1 teaspoon onion powder1/3 cup scallions onion tops1 cup cheese of choice or 2 oz ...
Read more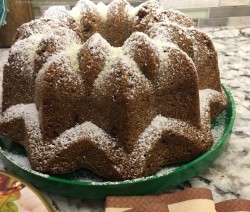 Crunchy and Different and Absolutely Delicious Ingredients2 cups sugar3 cups flour1 teaspoon soda1 teaspoon salt1 teaspoon cinnamon1 1/2 cups Wesson oil3 eggs1 teaspoon vanilla3 cups chopped red apples - do not peel1 cup chopped nuts Powdered sugar for dustingsweetened whipped cream optionalDirectionsStep 1Sift together dry ingredientsStep 2Add oil, eggs and ...
Read more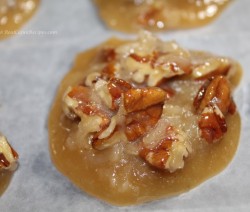 If you have never made these- you must try! These are Heavenly – Easy to prepare and these pecan sweet Coconut Pecan Pralines make the Perfect Treat and Holidays sharing!! Ingredients2 cups pecans2 cups sweetened shredded coconut1 1/2 cups sugar1 cup brown sugar1/2 cup evaporated milk1/2 cup light corn syrup1/2 ...
Read more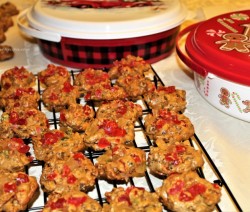 In Memory of Marylin DeMarcy Morvant This cookie is know by several names – Christmas Lizzies Fruitcake Cookies, Candied Fruit and Bourbon Cookies, Christmas Fruit Cookies, and Fruitcake Drops. This recipe offered a special memory for Maw-Maw who first tasted this cookie 50 plus years ago while working for a ...
Read more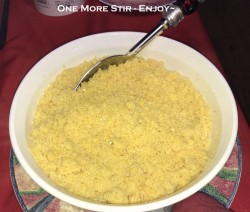 A cornmeal dish know by so many names Kush Kush, Cush Cush, Couche Couche or Coosh Coosh  – is a favored Cajun dish. It is also eaten with different condiments Milk…. Figs, Sugar, Cane Syrup,Coffee, Bacon, and Cracklings. A Cajun tradition made easy with the microwave.. Ingredients 3 cups cornmeal yellow-white ...
Read more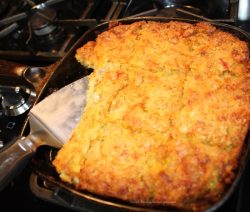 Wikipedia states  – "The Southern version of cornbread actually originated with the Native Americans" Cajuns stepped it up a notch adding shrimp or crawfish Ingredients2 eggs1 can 15oz cream style corn1/3 cup oil3/4 cup grated cheese1 box Jiffy corn bread - any flavor1/2 teaspoon liquid crab boil2 cups raw shrimp or crawfish1 ...
Read more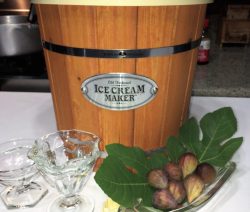 Figs are among the oldest fruits.  Figs are  wonderful straight off the tree And what's really nice you can also eat the peel. Many Cajun love making fig preserves – Great with bread, corn bread, or over cream cheese as an appetizer. Another sweet use is fig ice cream – ...
Read more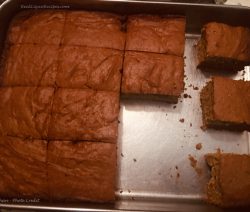 In Memory of Louella Landry Kaplan LA Cajun love making fig preserves – Great with bread, corn bread, or over cream cheese as an appetizer. Another sweet use for fig preserves is to make fig preserve muffins – so good Ingredients1 cup (2 sticks) butter 2 cups sugar 3 eggs1 ...
Read more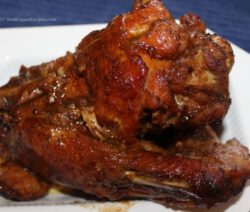 Is there really anything better than baked turkey wings?  Disneyland doesn't think so, and now you don't have to plan a trip to get your own. Baked Turkey wings when you don't need a whole turkey and you crave a delicious serving of rice and gravy Ingredients4 to 6 turkey ...
Read more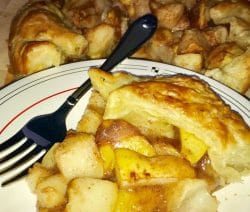 Puff pastry is a flaky light pastry made from a laminated dough composed of dough and butter or other solid fat. The butter is put inside the dough (or vice versa), and the dough is repeatedly folded and rolled out before baking. similar to making a croissant – Wikipedia  Using your ...
Read more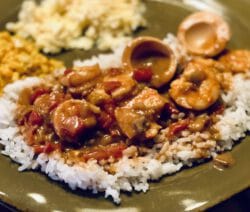 Shrimp and Egg Stew is a popular Louisiana dish, enjoyed by many.  It's not only delicious, but it's easy to make. Ingredients4 tbsp dark roux1 cup onion, chopped3 stalks of celery, chopped1 tbsp tomato paste 1 can of Rotel tomatoes1 can of cream of mushroom soup2-3 cups of water3-4 eggs, ...
Read more