Beignets III
2012-08-27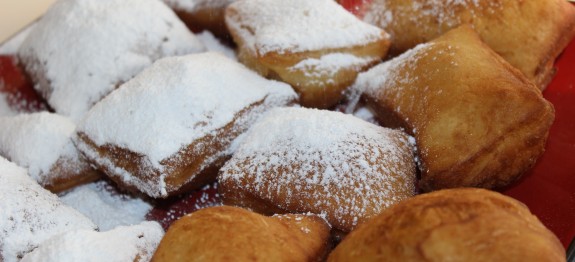 Prep Time :

20m

Cook Time :

6m

Ready In :

26m
Beignets are commonly known in the U.S. as a dessert served with powdered sugar on top, however, they may be savory dishes as well and may contain meat, vegetables, or fruits. Beignets are traditionally prepared right before consumption to be eaten fresh and hot. The most popular drink served with this type of no hole doughnut is Café au lait (heated coffee and heated milk) popularized contemporarily in part by Café du Monde in New Orleans.
Ingredients
2 cups flour
1 cup milk
1 egg
1 tbsp sugar
1 tsp baking powder
pinch of baking soda
Directions
Step 1
Sift the dry ingredients into bowl.
Step 2
Add milk and egg and mix well.
Step 3
Drop by the spoonful into deep fat-oil heated to 375 degrees.
Step 4
Fry until golden and drain on paper towels. Serve with syrup or cover with sifted powdered sugar and cafe de liat.