 My Grandma Curley would bake this cake for me when I was a little girl. My mother especially liked it. Ingredients 1 box yellow cake mix 1/4 tsp baking powder 1 cup oil 4 eggs 1 (11 oz) can mandarin oranges Frosting 1 (20 oz) can crushed pineapple 1 (3 ...
Read more A fish stew made with the goo fish. The goo fish is the nickname for a freshwater drum; known as a gaspergou or sheepshead. This fish is similar to carp. Ingredients 6 lbs goo fish, cut in large pieces 1/4 cup water 1 tsp salt 1 tsp black pepper 1 ...
Read more The fish are difficult to dress, but the meat cooks up white and flaky, and tastes delicious. Like any other flavorful white-meat fish, gar can be baked, stewed, fried, grilled or broiled. Garfish have a low to medium fat content and the flavor is sweet to mild. They are usually ...
Read more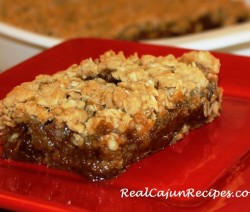 July and August are prime time for peaches, figs and raspberries. A fresh fig tastes like a mix of a peach and a strawberry! Even though Fig Newton cookies are probably the only figs most people have tried, they simply do not compare to the fresh fig. Treat yourself next ...
Read more A very popular and easy to make treat for all your parties and family gatherings. Add more flavor – for crawfish-shrimp jelly flavor add 1/8 teaspoon of Zatarain's Concentrated Shrimp & Crab Boil for every pint of your favorite pepper jelly recipe.Serve with crackers or over cream cheese. Ingredients 1 ...
Read more There are many ways to make gumbo with roux, without roux, with okra, without okra, with file' and without file'. This gumbo's basic base and flavor is created with file' which are ground sassafras leaves. Houma is located in Terrebonne parish in Southern Louisiana. Sometimes given as Ouma (French) or ...
Read more Many Cajuns grew up eating this appetizer at the Cock of the Walk Restaurant on Johnston Street in Lafayette before it burned down. The restaurant seemed almost famous for this dish. Many times, the restaurant's parking lot would become flooded after heavy rains and once, a Kaplan man stepped out ...
Read more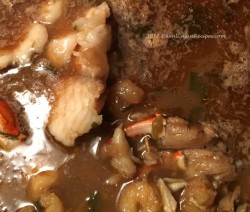 This is a great gumbo recipe from the Houma, Louisiana area. Great anytime but perfect during Lenten season. Ingredients 2 1/2 quart chopped onions 21/2 quart green onions chopped 11/4 quart chopped celery 5/8 quart bell pepper chopped 30 pods of garlic chopped 30 seven ounce catfish filet cut in ...
Read more Easter is a time for many things, but for some it's all about the candy. One of the most popular Easter candies is the Gold Brick. For those who can't find them, or want them year-round, this recipe is a handy fill-in. Ingredients 4 1/2 cup sugar 1 large can ...
Read more J-E-L-L-O – Even the simplest Jell-O dessert is a joy. Here is one dessert that will take your taste buds one step further. Dale Begnaud in memory of his mother's Cajun cooking. Ingredients 1 box white or yellow cake mix 1 small box lemon or orange jello 2/3 cup water ...
Read more Eggplants have quite an eclectic history, but have always been delicious. For those who haven't ventured too far out of their culinary norm, this is a great recipe to become accustomed to the eggplant. Dale Begnaud in memory of his Mom's wonderful eggplant cooking. Ingredients 1 large eggplant 3 tbsp ...
Read more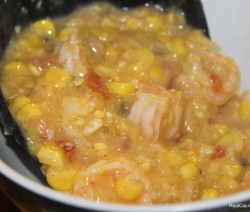 Delicious entree or side dish made of fresh corn and shrimp; easy, versatile, and quick to cook. Ingredients 2 sticks butter 4 cups fresh cut corn or fresh frozen 2 cans ROTEL brand tomatoes (tomato with green chilies) 1 can cream of mushroom 1 can cream of shrimp 2 medium ...
Read more