Recipes by

Howard Menard Green beans have many common names – string beans, pole beans, snap beans, zydeco – just to name a few. Two of my favorite ways to eat green beans is to break it off the plant and eat it fresh; the other is pickled. I just wonder if I could ...
Read more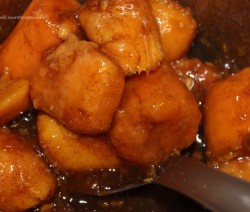 There are two varieties of sweet potatoes; the pale yellow with a dry flesh and the dark orange with a moist flesh. The dark orange variety is plumper in shape and somewhat sweeter than the yellow variety. What are frequently called yams, especially in the Southern U.S., are in fact ...
Read more Cajuns love their seafood. This "soup for the Cajun soul" can be made with crab, shrimp, crawfish, all three or in combination with each other. Experiment with the mixtures of the seafood available in your area. Ingredients 1 block margarine or butter (8 tbsp) 1 cup onions, finely chopped 1/2 ...
Read more Two of the best, rib eye steaks and shrimp, joined together to make a scrumptious meal. Ingredients 1 cup shrimp peeled uncooked 1/4 cup onion 1/4 cup bell pepper 1 tbsp garlic chopped 4 rib-eye steaks, 3/4 - 1 inch thick 1 tsp Cajun seasoning 1 cups Italian salad dressing ...
Read more One of the more popular classic Cajun soups made easy; this one will really "hit the spot". This recipe is dedicated to Howard Menard. Ingredients 1 (10 oz) box frozen corn 1 medium onion, chopped 1 block butter 1 can Campbell's cream of shrimp soup 1 cup water 5 tbsp ...
Read more