Recipes by

Dale Begnaud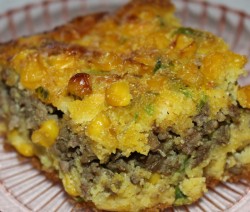 This was one of my children's favorites growing up.   Ingredients 1 lb ground meat 1 onion, chopped fine 1/2 lb cheddar cheese, grated 3 jalapenos, chopped 1 cup cornmeal 2 eggs beaten 1 cup milk 1/2 tsp baking soda 3/4 tsp salt 1 (15 oz) can whole kernel corn ...
Read more A family favorite! I grew up eating these cookies, as did my children. Now their children will as soon as their first baby teeth come in. Ingredients 2 cups brown sugar 2 cups granulated sugar 2 cups shredded coconut 1 lb Crisco 4 eggs 3 cups Quaker oats 4 cups ...
Read more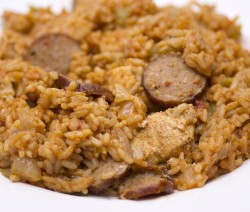 A favorite Cajun classic! Dale Begnaud in Memory of his Mom, Meredith Ingredients 1 large hen or chicken 3 cups onions, chopped 1 bunch green onions (scallions) 2 large bell peppers 1 clove garlic, minced fine 3 cups long grain rice 1 pound hickory smoked sausage salt and pepper to ...
Read more My mother's note on her recipe card says it all – **Very Good** Dale Begnaud in memory of his Mom's great Cajun baking skills. Ingredients 1/2 pound margarine or butter 1 box powdered sugar 1 cup graham cracker crumbs 1 (12 oz) jar peanut butter 1 (12 oz) package chocolate ...
Read more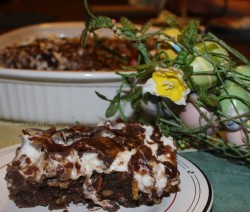 ...uld not find any. I was living out-of-state and called my friends to see if they could find some for me. I ended up with 8 boxes, 24 pieces each of this delectable candy. Now if Elmer's runs out, I can make my own. Recipe by Dale Begnaud in memory ...
Read more These crisp, delicate delights are a wonderful treat for your loved ones. Similar to a tea cookie. Dale Begnaud in memory of his Mom's great Cajun baking. Ingredients 1/4 pound butter 1/2 cup sugar 1/4 tsp salt 1 1/4 cup flour 1 egg, separated 1/4 tsp vanilla 1/4 cup sugar ...
Read more Eggplants have quite an eclectic history, but have always been delicious. For those who haven't ventured too far out of their culinary norm, this is a great recipe to become accustomed to the eggplant. Dale Begnaud in memory of his Mom's wonderful eggplant cooking. Ingredients 1 large eggplant 3 tbsp ...
Read more A good sauce piquant is full of flavor and sass. This recipe lives up to that reputation. Dale Begnaud in memory of his mom's great Cajun cooking Ingredients 3/4 cup oil 3/4 cup flour 1 bunch green onions scallions 1 large onion 1 medium bell pepper 1 (15 oz) can ...
Read more J-E-L-L-O – Even the simplest Jell-O dessert is a joy. Here is one dessert that will take your taste buds one step further. Dale Begnaud in memory of his mother's Cajun cooking. Ingredients 1 box white or yellow cake mix 1 small box lemon or orange jello 2/3 cup water ...
Read more