Coconut Fudge Truffles
2015-09-13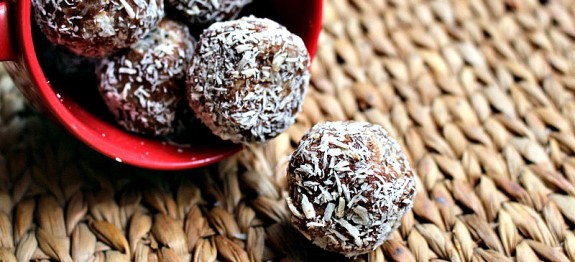 Yield :

Dessert

Servings :

2

Prep Time :

2m

Cook Time :

2:0 h

Ready In :

2:2 h
Ingredients
1/4 cup coconut flour
2 tablespoons cocoa powder (carob works great too!)
2 tablespoons raw, local honey
1/2 cup raw almond butter
1/4 cup virgin coconut oil
1/3 cup unsweetened coconut shreds (optional)
Directions
Step 1
In a bowl, mix together the coconut flour and cocoa powder (or carob). In another small bowl, microwave the almond butter and coconut oil until melted and smooth.
Step 2
Pour in the honey into the flour and powder mixture, then stir until mixture is creamy. Slowly dump the coconut oil mixture into the dry ingredients. Stir well until both dry and wet ingredients are incorporated completely.
Step 3
Line a 8×8 baking pan with parchment paper and pour the coconut mixture into it. Chill in the fridge for two hours. Once set, use a tablespoon to scoop out the mixture.
Step 4
Roll into balls, one tablespoon in size, then roll in unsweetened coconut shreds if using.
Step 5
If making fudge, use a smaller pan in order to achieve a thicker fudge piece. Serving size will vary depending on the size of the pan and how large you slice the pieces.